Countdown to Lanvin for H&M collection
Last night at The Pierre hotel, Sofia Coppola, Andie MacDowell, Anna Sui, Tory Burch, Alexander Wang and other guests gathered together to celebrate the first collaboration between Lanvin amd H&M, with the chance to see at first hand other designs made for the occasion by Lanvin's creative director, Alber Elbaz. The haute couture creations, which were customised pieces from the Lanvin for H&M collection, made their way down the catwalk with the help of models Asia Chow, Pixie Geldof, Dree Hemingway, Olga and Anna Dello Russo.

The Lanvin for H&M collection will be sold at around 200 stores worldwide. It will be launched on November 20 in the US and Canada, and November 23 in the rest of the world.


Alber Elbaz, artistic director at Lanvin and Margareta van den Bosch, creative advisor at H&M, talk about the Lanvin for H&M collaboration and collection.
Alber Elbaz designed the collection "with an extraordinary ambition for H&M, bringing the codes of the house to make every single piece identifiably the work of Lanvin". For women there are dresses of breathtaking cut and joyful colour, as well as pieces full of Parisian glamour and accessories with playful "joie de vivre".
As for the men's collection created by Lanvin's menswear designer Lucas Ossendrijver, the line encapsulates H&M's vision of how men should dress: a whole new wardrobe of covetable updated classics, with tuxedos made for daywear and jogging pants adding a new sporting twist.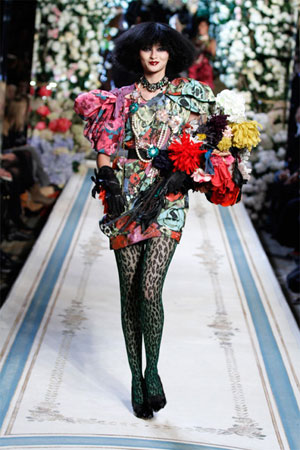 Lanvin for H&M, Fashion show New York. Image by H&M; Photographer: Dan Lecca
Sofia Coppola said of the collection, "I think Alber Elbaz is great, I love what he does at Lanvin, it's so girly and playful and confident. It's so cool he's working with H&M, it makes it so accessible to all kinds of young people to be able to afford it and wear it".
Andie MacDowell also loved the collaboration: "I think it's genius. I'm a big fan of Lanvin. I can afford Lanvin and my daughter can afford H&M, and now my daughter's going to have the opportunity to have a little bit more pizzazz."
Marina Felippe
Copyright © 2023 FashionNetwork.com All rights reserved.