Death hangs over Wenders film with Dennis Hopper
By Mike Collett-White
CANNES (Reuters) - Death hangs over the new movie by German director Wim Wenders, whose "Palermo Shooting" starring U.S. actor Dennis Hopper had its premiere at the Cannes film festival on Saturday.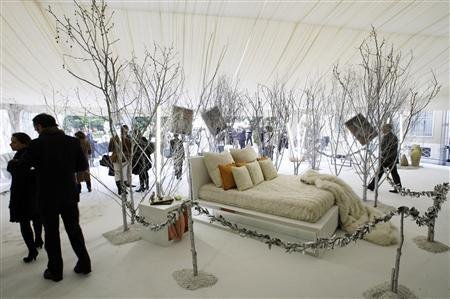 Hopper plays the cloaked figure of death who stalks the main protagonist -- a famous photographer who seeks to find answers to life's fundamental questions during a trip to the Italian city of Palermo where he goes for a fashion shoot.
"I found myself in a little town in Italy, in Sicily, and in the morning I opened the newspapers and they told me that (Swedish director) Ingmar Bergman had died," Wenders told reporters.
He recalled that the very next morning in Gangi, a small town near Palermo where much of the movie was shot, he was told by a policeman that Italian director Michelangelo Antonioni had also died.
Both Antonioni and Bergman died on July 30, 2007.
"I wrote that morning in my notebook, you can only dedicate this film to those two," added Wenders, whose movie divided critics after its press screening in Cannes.
Hopper, best known for his mean and mad roles, said he was resigned to his image.
"I think it's appropriate for death and Dennis Hopper to say 'Why am I always cast as the bad guy?"' Hopper said, referring to a line in "Palermo Shooting."
The central character of Finn is played by Campino, lead singer of German band Die Toten Hosen, an apt choice for a film where rock music plays throughout and in which Lou Reed of Velvet Underground fame has a cameo role.
The character of Finn lives life in the fast lane in Germany, but he becomes increasingly exhausted as disturbing dreams invade his sleep.
As well as unresolved questions to do with his dead mother, Finn risks demeaning his professional success as a high concept art photographer by wasting time on fashion shoots.
The move to Palermo and Gangi offers him a fresh start, and the warm colors of Mediterranean Italy contrast starkly with the cold, colorless landscape of Duesseldorf.
Although the prospect of a new love raises his spirits, he is haunted by visions of a mysterious man, who ends up nearly killing him twice.
Wenders won the coveted Palme d'Or for best film in 1984 with "Paris, Texas," but many critics believe he is unlikely to repeat the feat in 2008, arguing that the weakness of the script of "Palermo Shooting" was its downfall.
Picking up on Finn's doubts about art and fashion photography, Hopper was asked whether he was comfortable making independent films like Wenders' at the same time as appearing in commercials in the United States.
"In point of fact, I have a family that I need to keep going and making commercials is a profitable way of doing it," he said.
"It (acting) allowed me to continue taking photographs and it allowed me to continue painting ... Acting allowed me to be able to live a cultural life."
© Thomson Reuters 2023 All rights reserved.