December retail sales seen up, tough spring ahead
By Martinne Geller
NEW YORK (Reuters) - Top U.S. retailers will give investors the most detailed picture yet of holiday sales this week, with most expected to show better sales after an abysmal 2008 performance.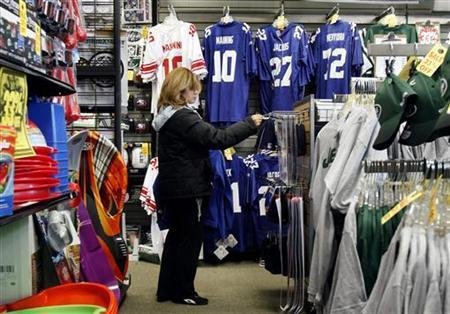 The retailers will report sales at stores open at least a year, data that may also shed light on their positions heading into the spring season. Wall Street is predicting a tougher environment as consumers return to saving money.
Chains from Costco Wholesale Corp to Macy's Inc to Abercrombie & Fitch will report December same-store sales data Wednesday 6 January and Thursday 7 January. Analysts expect a 1.3 percent increase from a year earlier at 30 retailers tracked by Thomson Reuters Data.
That would mark the fourth consecutive monthly sales increase, after a straight year's worth of declines during the recession.
Jharonne Martis, director of consumer research for Thomson Reuters, said the December results should reflect an improvement from last year, when same-store sales fell 3.6 percent, but not an economic recovery.
A rise of 1.3 percent "is still on the weak side, but it's an improvement from last year," Martis said. "Things are better, but they're still not healthy yet."
Retailers can ring in up to 40 percent of annual revenue in the weeks leading up to Christmas on December 25. This year, as investors search for signs of an economic recovery, the period holds even greater significance.
"Santa did show up this year, delivered a lot of presents, and helped retailers become at least as profitable, and likely more profitable for everyone, than last year," said Stifel Nicolaus analyst Richard Jaffe. "Things are going to be OK. "Not great, but OK."
Industry groups such as the International Council of Shopping Centers (ICSC), ShopperTrak and SpendingPulse have released preliminary data on holiday sales, but their parameters often differ, leading to widely varying figures.
ICSC has forecast an increase of about 2 percent for December. The National Retail Federation expects holiday sales for November-December to decline 1 percent.
This week's same-store sales results will be the first figures provided by retailers themselves.
"I absolutely trust the same-store sales numbers because those are what they are," said Patricia Edwards, founder of wealth management firm Storehouse Partners.
FALSE NEGATIVE
At the start of the holiday season after U.S. Thanksgiving, shoppers focused only on big bargains. As a result, retailers clocked a weaker-than-expected 0.5 percent gain in November, dimming hopes for a recovery and pushing retail shares lower.
Deutsche Bank analyst Bill Dreher called the November miss "a false negative on the holiday season, as consumers waited until December and even the final week before Christmas to purchase gifts."
In a note to clients, Dreher said the benefit of an extra shopping day between Thanksgiving and Christmas this year would help compensate for the negative effect of snowstorms that hit parts of the country in the last week of the season.
Dreher expects sales for the entire holiday season to be up 1 percent to 2 percent, with Nordstrom Inc, Kohl's Corp and Target Corp prevailing due to market share gains.
By category, the best performance is expected from discount chains such as Target and BJ's Wholesale Club Inc, which are expected to see a gain of 3.5 percent, according to Thomson Reuters Data. The worst, a 4.5 percent decline, is expected from teen apparel chains such as Aeropostale Inc and Zumiez Inc.
FEAR FOR SPRING
In addition reporting same-store sales, some retailers are likely to offer guidance on the coming year.
Stifel's Jaffe said he was not worried about retailers' performance in the fourth quarter, since most chains had well-planned promotions, tight inventories and reduced expenses. He said his concern was with spring, when retailers will start to cycle the improvements made since 2008.
"The game's gotten much harder for these retailers," he said. Jaffe has "buy" ratings on stocks such as Gap, American Eagle Outfitters, TJX Cos and Urban Outfitters, but sees earnings growth in the sector cooling as consumers again tighten purse strings.
"We've gone from an overweight perspective coming into the fall, to what I would describe as an underweight situation as we look to spring 2010," Jaffe said.
(Additional reporting by Jessica Wohl in Chicago; Editing by Michele Gershberg and Steve Orlofsky)
© Thomson Reuters 2023 All rights reserved.