December retail sales up, but discounts hurt profits
Many U.S. store chains had to resort to deep discounts to lure shoppers over the holiday selling season, cutting into profits even as overall December sales came in slightly above expectations.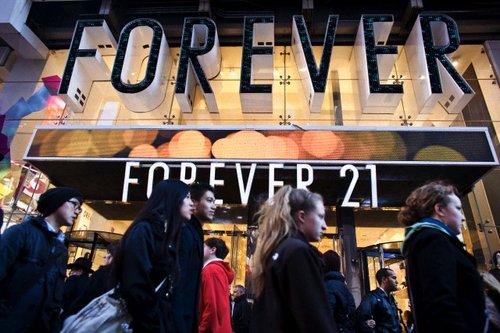 Holiday Shoppers / Photo: Corbis
The news showed retailers are still struggling to convince post-recession U.S. shoppers to buy at full price, an ominous sign at the start of 2012.
"In recent years retailers have trained consumers to respond only to discounted pricing," said Lawrence Creatura, a portfolio manager at Federated Clover Investment Advisors.
"The risk is that if the retailer has to take those discounts further than planned, it can impact margins," he said.
Retailers such as J.C. Penney Co Inc, Gap Inc, Limited Brands, American Eagle Outfitters and Children's Place all called the holiday season highly promotional.
If shoppers turned out, they did so on condition of getting good deals, something experts said would continue into 2012.
"The consumer is in the driver's seat -- they have the power," said David Bassuk, head of AlixPartners retail practice. "We'll still see aggressive promotions in the next six months."
Penney cut its quarterly profit forecast, citing "higher markdown activity," and its shares fell. Kohl's also cut its holiday-quarter profit outlook after a disappointing December and a disastrous sales decline in November.
Macy's Inc, which expanded its late-night hours to more stores in the final days before Christmas and carried more exclusive goods, reported a better-than-expected 6.2 percent rise in December same-store sales and raised its profit and sales outlook for the current quarter.
"I think it is a market-share game right now," said Michael Niemira, chief economist of the International Council of Shopping Centers. "Some stores continued to impress, others to disappoint. The strong players in 2011 largely continued to perform well during the 2011 holiday season as well."
The ICSC sees same-store sales rising only 3 percent in January as people take a break from shopping after the holiday binge and inflation moderates.
Others agreed that January will be a ho-hum month.
"January sales should be OK. As our economy stumbles to its feet, we're likely to see the consumer continue to participate. It won't be anything dramatic but commerce will continue," Creatura told Reuters.
Most retail stocks fell on Thursday. The Standard & Poor's Retail Index was down 0.6 percent at midday, while the broader Standard & Poor's 500 Index slipped 0.2 percent. Macy's, TJX and Ross Stores were among the few retail gainers.
WINNERS AND LOSERS

Target Corp's sales did rise, but they missed expectations as the discounter faced a resurgent Wal-Mart Stores Inc. Target lowered its quarterly profit forecast.
Wal-Mart's decision to bring back a lay-away program has been a hit with shoppers and has challenged the company's rivals.
Gap was one of the biggest losers, with overall same-store sales down 4 percent.
Costco Wholesale's 7 percent same-store sales jump just missed the 7.6 percent increase Wall Street was eyeing.
Chains that have done well in recent months continued to do so in December, and several of those raised their profit forecasts, including Macy's, Limited Brands and Ross.
Even chains like TJX Cos, which runs the T.J. Maxx and Marshalls chains and had a much better-than-expected same-store sales gain of 8 percent, said it priced "aggressively."
Overall, sales rose 3.4 percent at the 22 retailers tracked by the Thomson Reuters same-store sales index, compared with the 3.3 percent analyst forecast. For a related graphic, click link.reuters.com/qak85s
Discounts, better news on the job market, and an upswing in the stock market spurred consumer spending, analysts said. But shoppers, especially those on tight budgets, could balk if they do not find bargains to their liking in the new year.
"The deals were good, I guess that's why I spent more," said Joanne Marcelle, 52, at an Old Navy store in New York's Herald Square on Wednesday.
But the unemployed Bronx grandmother said she still depends on bargains. "I can't say what the year will hold for us."
The National Retail Federation expects retail sales to be up 3.8 percent for the November-to-December period.
(Reporting By Phil Wahba and Dhanya Skariachan in New York, Lisa Baertlein in Los Angeles, Nivedita Bhattacharjee and Brad Dorfman in Chicago, editing by Maureen Bavdek and John Wallace)
© Thomson Reuters 2023 All rights reserved.