Designer brings haute couture home to Sierra Leone
By Katrina Manson
FREETOWN (Reuters) - Women carrying corn on their heads and children selling peanuts stop to stare as a leggy model in a tiny, blue dress strikes a pose outside a steel-doored clothes shop in Sierra Leone's capital.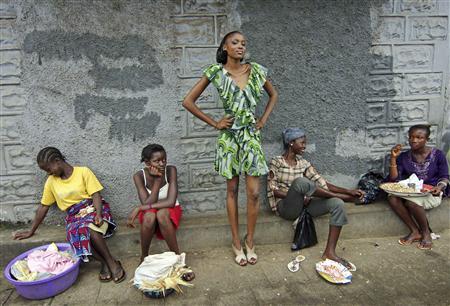 Adama Kai, a fashion designer trained in New York and Paris, organized the photo-shoot to promote her new store and company, Aschobi Designs. The 25-year-old has eschewed job prospects in the developed world to come home and follow her dream.
"Maybe I have more opportunities as a designer over there, but I'm making a bigger statement over here," said Kai, who was born in New Jersey but moved to Sierra Leone shortly afterwards and lived there until she was four.
"In the same way that Ralph Lauren stands for America, Chanel for France, and Versace for Italy, I want Aschobi to stand for African fashion," she said.
Her store is tucked between a small printers and a newspaper office in hilly Freetown's hectic downtown.
"I know this is the last place you'd expect to find haute couture. But I want to replace all of this darkness of the past with beauty," she said.
Sierra Leone, ranked the world's least developed country by the United Nations, is recovering from a 1991-2002 civil war that shocked the world with images of drugged-up child soldiers hacking off villagers' limbs with machetes.
An estimated 30-50 percent of skilled Sierra Leoneans fled the conflict, in which 50,000 people were killed.
But slowly some of those people are trickling back -- mirroring a continent-wide trend that has seen educated Africans return to take advantage of business opportunities in fast growing economies.
"Everybody thinks I should be in Paris, London or New York," said Kai, who attended the same fashion school as designers Marc Jacobs and Donna Karan. She worked in New York as a styling assistant on Flaunt magazine and later handled creative portfolios for a management agency.
"I've given up a lot to be here and I miss Paris and the fashion life in America. But this is really important to me," said Kai, who launched her business in January.
"This is my only job. This is my life actually."
HOMEWARD BOUND
Sierra Leone may be one of the world's poorest countries but President Ernest Bai Koroma said in March foreign investors were showing fresh confidence and the former British colony could become a leading investment destination in West Africa.
The economy is expected to grow by 7 percent this year, after between 6.5-7 percent last year. But around 57 percent of its people still live on less than $1 a day.
Most of Sierra Leone's 750,000-1 million-strong diaspora are still abroad, and the remittances they send home are worth around $250 million a year.
The money is vital but Koroma's government, elected last year, wants a more direct contribution and is seeking to lure people home to help develop a country with unspoilt beaches, agribusiness potential, diamonds, iron ore, gold and the world's largest reserve of rutile -- an ingredient in paint pigment.
An estimated 50,000 have returned since the war ended.
"We have a lot who are returning who are very successful with the experience and skills the country needs, but of course the salary is not there," said Michel Sho-Sawyer, a presidential adviser and director of the new Office of Diaspora Affairs.
Sho-Sawyer, who lived in the United States for 20 years before returning in 2007, earns 60 percent less than he did as a doctor abroad.
"A lot of them are even leaving family behind, but they're making these sacrifices to come back and help the development of the country," he said.
Regular power cuts, malarial mosquitoes and rudimentary living conditions can be a drag for returnees, but many are drawn by a desire to make a difference.
It is a similar story next door in Liberia, recovering from its own war which like Sierra Leone's was fuelled by diamonds and marked by extreme brutality.
Marie Wilson fled Liberia as a refugee during a 1989-2003 civil war. After 12 years in the United States, where she worked in a grocery store in Charlotte, NC., she returned and has built a business selling imported U.S. rice.
Wilson calls Liberian President Ellen Johnson-Sirleaf, who worked abroad as a World Bank economist and came back to stand for office, "a role model for women in Africa".
"I do not like to talk about politics. All that I like to do is business, business, and business ... All over the world, we talk about gender equality and one way to promote this is to help women entrepreneurs," Wilson said.
"JUST COME"
Coming home can be tough. Freetown's returnees are known derogatorily as JCs, Krio dialect for 'jus cam' -- just come.
"Many people here have this resistance factor to returnees because they feel that, unlike those in the diaspora, they themselves stayed here throughout the war and suffered and now they should get all the jobs," Sho-Sawyer said.
When she was four, Kai moved with her mother, who worked for the United Nations, to Ethiopia. At 13, she went to a boarding school in the United States. She later studied fashion for two years in Paris and one in New York.
The designer, who employs between three and 12 tailors depending on her workflow, is regularly called a JC.
"They see it in your face -- you look fresh and wholesome -- and they hear it in my accent. I probably have to be living here five years before people accept me."
Dressed in a brown suit with her hair twisted into dreadlocks, Kai knows she stands out in the Freetown crowd.
Her designs are even bolder -- a profusion of greens, oranges, yellows and pinks in bold shapes, the clothes combine expertly draped African prints with modern design influences.
"It's like all of it was inside waiting to burst out for so long. I am African and that in itself is a statement. It's the idea you carry yourself in your clothes: you wear the pride of the textile," Kai said.
Her dresses cost between $30 and $100 -- a princely sum in a country where average gross domestic product per capita is $216.
In her shop, also called Aschobi Designs, middle-class Sierra Leoneans and expatriates browse the clothes hanging from wooden racks, surrounded by stacks of international fashion magazines, including editions of Vogue from all over the world.
"I think what I am doing is in line with anyone coming here to open a school or a hospital: I know it is enriching this country," said Kai.
She did not say how much she had invested in her venture or give details of her earnings except to say that she is not yet making a profit. But she has big plans and hopes to start exporting her clothes to the United States next year.
She has some potential outlets already lined up and also hopes to stock shops in West Africa.
"I'm probably going to be losing more money than I'm making for now but I want to start selling wholesale. The market in Sierra Leone is very small. People who have money tend to spend it abroad," she said.
"But profit will come. I know I'm going to be a very wealthy lady one day."
(Additional reporting by Alphonso Toweh in Monrovia; Editing by Alistair Thomson and Clar Ni Chonghaile)
© Thomson Reuters 2023 All rights reserved.