Designer Carlos Alberto wants his name to be a "way of life"
DORADO, 7 August 2009 (EFE) – Puerto Rican designer Carlos Alberto is hoping to establish his name in the world of international fashion as representing a special "way of life".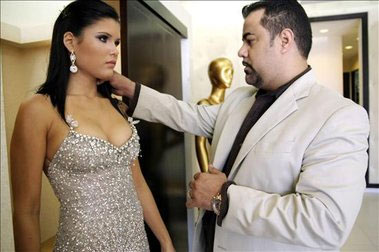 Carlos Alberto looks at model Gabriela Berríos during one of his sessions in Dorado - Photo: EFE
His dream will begin to become a reality as he has the opportunity to design the outfits that all of the Miss Universe 2009 candidates will wear for the opening of the competition on the 23rd of August in the Bahamas.
Carlos Alberto Otero Brunet, the full name of the fashion designer, said in an interview with Efe that the concept for his designs was a "way of life" which require a more international presence, with more boutiques, commercials ranges and girls "who are glamorous and elegant."
"I want women to have glasses, purses and footwear from my brand. That is what I am seeing for some point," stated the designer in his store in Dorado, a city in the north of Puerto Rico.
But before Carlos Alberto carries out these plans he will be fulfilling a big commitment with the Miss Universe 2009 contest, where he has been selected to design for and dress more than 80 candidates at the opening ceremony.
Mr Alberto indicated that the key in carrying out his goals is to work like an "organized" person, in spite of all of his daily commitments.
"If you work in an organized way, you can carry out your projects one after the other and you can keep track of them," he said.
The designer pointed out that various countries had called him to dress their representatives, but that he had chosen to design the outfits for the opening ceremony because "it was something that (he) had always wanted and thought about."
Carlos Alberto averred that having been chosen by the competition's organizers to dress the candidates is explained by his being one of the few Latin American designers that has already had the opportunity to work for the event, alongside recognized Dominican designer Oscar De la Renta.
He claims that he enjoys designing an outfit for a debutante just as much as designing costumes for beauty queens, and assures that the affection with which he works was taught to him by the legendary Puerta Rican designer Carlota Alfaro, who dressed the majority of Puerto Rican contestants in the Miss Universe competitions.
After working with Carlota Alfaro for 14 years, Carlos Alberto decided that the moment had come to set up his own fashion workshop, whilst remembering that when problems present themselves with the creation of an outfit to immediately recall how Carlota would have solved the problem.
"They knew that they had put together my entire life. I am a person who has worked like any other, who has studied in public school and achieved my dreams of succeeding on an international level," he went on.
Carlos Alberto, who has said that when he was younger he wanted to be a model, stressed that in the end it is very complicated to dress well in all of the "glamour" that surrounds the winner of the Miss Universe competition.
"The girls think that the best thing is that winning Miss Universe puts you on a cloud as it opens doors for you on a global level, but we have to be ready to travel five times a month to different countries and to be prepared to have a permanent smile, in spite of all the negatives that happen," he emphasized.
He noted that the contestant who "best holds themselves, walks and has stage presence" will be the one that the jury will select as the winner.
Mr Alberto reckons that the representative of Puerto Rico, Mayra Mato, is one of the strongest candidates for the crown, because she shows "perserverance and humble determination" and is a woman that "wants to reach her goals without hurting anybody."
Five Puerto Ricans have previously won the contest: Marisol Malaret (1970), Deborah Carthy Deu (1985), Dayanara Torres (1993), Denise Quiñones (2001) and Zuleyka Rivera (2005).
Dayana Mendoza from Venezuela, Miss Universe 2008, will be handing over the crown to her successor at the end of the competition.
By Jonathan Fulwell (Source: Jorge J. Muñiz Ortiz/EFE)
© EFE 2020. Está expresamente prohibida la redistribución y la redifusión de todo o parte de los contenidos de los servicios de Efe, sin previo y expreso consentimiento de la Agencia EFE S.A.