Designer shows crisis is a moment for creativity
By Marie-Louise Gumuchian
MILAN (Reuters) - Dresses with mock birds in cages or fried egg shape cut-outs. Spanish designer Agatha Ruiz De La Prada showed Milan the kind of imagination she believes is needed in a woman's wardrobe at times of economic crisis.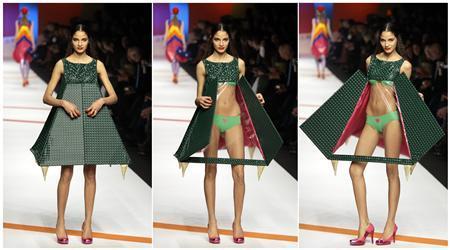 Playing away from catwalk trends, she presented a colorful collection for next winter at her show Tuesday, with a pink dress that had an upside down umbrella for a skirt and headbands that had satin baguette shapes stuck on them.
"In a moment of crisis, it is important to do things that are imaginative," Ruiz De La Prada told Reuters after her show, part of Milan Autumn/Winter 2009/2010 womenswear fashion week.
"This is a moment for creativity."
Ruiz de la Prada is known for her bold designs, which she calls "naughty and optimistic." She made no exception Tuesday with a palette of upbeat colors -- pink, yellow, red, violet, and blue for clothes, tights and heels.
Ruiz De La Prada said she dedicated her collection to artist Salvador Dali and surrealism. She even stuck on a big mustache, reminiscent of the painter's own, on one of her dresses.
"All of my life many people would tell me my clothes went on surrealism, I didn't like it," she said. "But at the end, there are many of my designs that go on surrealism."
Her "Cage Dress" had a mock cage, complete with a bird at its front, while the "Mermaid" had a long skirt with crossed over fabrics to give the effect of a mermaid's tail.
Another one-shouldered number had the keyboard of a piano all along its side. The model wearing it then extended her arm so the gown took the shape of a grand piano.
Some models had their faces completely covered in full-head hats, with only a small cutout for eyes. One took the shape of an eye on top of a yellow dress that had huge red lips stuck on the front. Other hats had colorful flower cutouts all over.
Ruiz De La Prada also stuck on shapes of ants, as well as hearts on patent leather outfits. Coats were in faux fur.
One rainbow-like dress was made out of long colored hairs.
"Clothes like these are beautiful," she said. "You go to a party like this, you look beautiful."
Other designers at Milan fashion week have sought to defy the gloomy economic mood, with stand out, sparkling creations.
Milan fashion week officially ends Wednesday, with the last collection presentations. Catwalk shows end Tuesday.
© Thomson Reuters 2023 All rights reserved.