Dick's Sporting, Hibbett to score from cold snap
By Viraj Nair
BANGALORE, March 8 (Reuters) - While an unusually cold winter might have been tough on many Americans, U.S. sporting goods retailers Dick's Sporting Goods Inc (DKS.N) and Hibbett Sports Inc (HIBB.O) won't be complaining about the weather when they report their holiday quarter profits.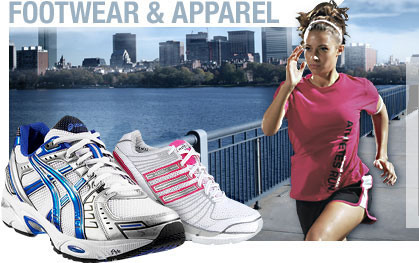 Footwear & Apparel at Dick's Sporting Goods
Fourth-quarter profits are likely to exceed market expectations, driven by robust sales of cold-weather products, especially in the apparel category.
Reported earnings of outwear makers like VF Corp (VFC.N) and Columbia Sportswear Co (COLM.O) as well as suppliers like Under Armor Inc (UA.N) and Nike Inc (NKE.N) suggest heightened demand for cold-weather gear, analysts said.
"I think the sell-through was strong for outerwear," SunTrust Robinson & Humphrey analyst David Magee said.
Analysts on average expect the Dick's Sporting to earn 55 cents a share on revenue of $1.29 billion, while Hibbett is expected to earn 31 cents a share, on revenue of $154.4 million, according to Thomson Reuters I/B/E/S.
SmartEstimates from Thomson Reuters StarMine, which lends more weight to recent estimates from top-ranking analysts, puts the average expectation for earnings marginally higher than the consensus for both companies.
However, Stephens Inc analyst Rick Nelson said Wall Street profit estimates "are conservative and beatable," as the cold-weather sales could be even higher than people are expecting.
Concerns over extreme weather conditions dampening sales in some markets seem to have eased.
"The storms that we thought would prevent shopping didn't prevent it as much," Needham and Co analyst Sean McGowan, who is expecting an upside to his profit estimates for the companies, said.
Birmingham, Alabama-based Hibbett benefited from surprisingly cold weather in the South, where VF Corp's The North Face outerwear brand could be a top sales driver, said Sam Poser, an analyst at Sterne, Agee & Leach.
But Pittsburgh-based Dick's Sporting, which operates mainly in the colder North Eastern markets, is likely to be the bigger beneficiary of the chilly winter, analyst Poser said.
Dick's should trump Wall Street profit targets for the seventh successive quarter as merchandise margins benefit from the strong winter-product sales.
"They cleared out a lot of outerwear at much better prices than a year ago," Poser, who has higher-than-consensus profit estimates and "buy" ratings on both stocks, said.
Dick's Sporting has also been tweaking its merchandise mix, shifting to more profitable apparel from the lower-margin firearms business in the recent past.
SAINTS' WIN, HIBBETT'S GAIN
Hibbett will also get a big windfall from the Super Bowl victory of the New Orleans Saints football team and the triumph of national college champions Alabama Crimson Tide in the retailer's backyard.
Stephens Inc's Nelson and Sterne Agee's Poser expect Alabama's victory to be a larger draw for Hibbett as the state represents a larger market for the retailer.
But Needham's McGowan said the Saints offered greater upside from its first ever Super Bowl win, when compared with the expectations for a traditionally strong team like Alabama.
"Lots of people outside New Orleans were buying merchandise who wouldn't have bought it otherwise," McGowan said.
The momentum from the football victories and the colder-than-normal weather can also carry over into the first-quarter, analyst Poser said, adding that athletic footwear trends are also improving. (Reporting by Viraj Nair; Editing by Anthony Kurian and Gopakumar Warrier)
© Thomson Reuters 2022 All rights reserved.