Dreamy Lula is a London Fashion Week 'must read'
LONDON (Reuters Life!) - A new fashion magazine built on daydreams, fantasy and fairy-tales in an unashamed flirtation with teenaged girls has become this season's "must read" at London Fashion Week.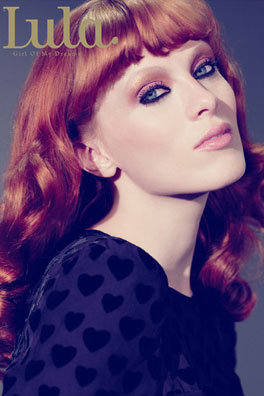 Photo: www.lulamag.com
Praised in internet forums and fashion blogs, and squabbled over in shops, Lula's mix of soft, feminine clothes explored in wistfully nostalgic stories has gained cult status and led to a relationship with Britain's highly successful Topshop store.
In the get-rich quick world of fashion, Lula has opted for the minimum advertising and has managed to get celebrity editors such as U.S. movie star Kirsten Dunst to heighten the sense of intimacy which has entranced the young fashion crowd.
It started in 2005 when British photographer Damon Heath and Canadian stylist Leith Clark, decided to create a unique magazine, something which would be distinct from, "the rest of the pack, the run of the mill magazines."
"The exact genesis is quite hard to place," Heath told Reuters. "But I had already worked with Leith maybe 10 times. We had done some work in magazines, but a lot of them look a bit shoddy. That set me thinking that it couldn't be that expensive to do it, and I thought that if we can make it look as good as possible, that will even out any editorial quirks."
Editorial quirks, however, when Leith Clark is the editor, are no bad thing. The 30-year-old has never shied away from the fact that she never really wanted to grow up, and the magazine is a real reflection of this.
Indulging itself in the world of daydreams, fantasies and all things feminine, Clark's one aim from the start was, "to make a magazine that I wanted to read."
In fact it was Clark's unique take on fashion and style that enabled Lula to quickly establish a loyal, fervent, and most importantly international fan base.
Australian sub-culture website twothousand.com described Lula magazine as: "the kind of girl you'd have a crush on. Or be intimidated by. Or want to be best friends with. Or all three," Lula is a vision that has captured the imagination of the young teens who idolize people such as model Kate Moss.

FANTASIES AND DREAMS
"To me," Clark explains, "fantasies and dreams are vital." There are very few adverts, and Heath says that this was a conscious decision.
"I don't really like materialism. So that's what we wanted to get away from. Nothing has come from a commercial starting point, it's not been, 'what's the best way to make money?' It's come from an aesthetic feeling."
The aesthetic feeling, as you would expect from a magazine created by a photographer and a stylist, is strong. Printed on thick glossy paper with an arthouse feel, the layout is minimal yet soft and the editorial content thought-provoking.
Celebrities, such as Karen Elson, Eva Mendes, Keira Knightley and Dunst, have all graced its pages. Interviews are intended to feel like late night chats with old friends.
"Guest editors give the magazine something distinctive, and bring it a certain profile," said Heath.
A recent short film collaboration with Topshop was done to promote the re-launch of their website, and is an exercise in everything a Lula reader could possibly want from a film, fantastic clothes, and Clark's magical touch.
"We chose Lula for its quirkiness, its unusual approach and its unbeatable creativity. The end result was fantastic," Topshop marketing executive Kim Mortimer said.
The website, www.lulamag.com, features exclusive online content, all in a whimsical, fairy-tale style.
"I love magazines and I don't want to ever read one online," Clark said. "But it can add to the experience..."
So what does the future hold for Lula? There are rumors about a Japanese edition.
"I'll never tell," Clark replies. "Okay I will tell you one bit -- we are planning to launch a Lula Japan sometime next year. Providing the economy perks up, of course."
(By Venetia Rainey. Editing by Paul Casciato)
© Thomson Reuters 2023 All rights reserved.