Dubai's gold sales fall 30 pct in June
DUBAI (Reuters) - Gold jewellery sales in Dubai are down around 30 percent in June on a year ago, as high prices of the metal and the economic downturn deter tourists from visiting the emirate, five jewellery retailers told Reuters.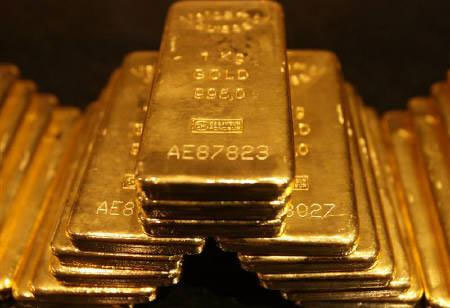 Photo: REUTERS/Tamara Abdul Hadi/Files
Almost 8 million tourists visited the emirate, branded as the City of Gold, last year, many of them lured by the tax-free jewellery. But retailers Reuters spoke to say the have seen far fewer tourists this year due to the economic crisis.
"In June sales were down about 30 percent from last year. Because of the hot weather and economic conditions less tourists are here to shop," said Sanjay Jity, a shop keeper from Al Khaledyah Jewellery in the old souk, or market.
Hotel revenues in Dubai fell 40 percent this May and June compared with the same months last year, according to hospitality agency STR Global.
The Dubai Department of Tourism and Commerce Marketing said 7.7 million tourists came to Dubai in the year to December, but had no updated figures for this year.
The higher price of gold has also deterred buyers, another salesman at the souk said. The retail price of 22 karat gold was around 101 dirhams per gramme, 20 percent higher than last year, he said.
"Many people now can't afford these prices," the salesman said.
Gold has risen around 26 percent to about $921.75 an ounce on Wednesday 8 July from a low near $680 in October, as investors buy the metal as a safe haven in a time of economic uncertainty.
Demand for gold in the Middle East fell 26 percent year-on-year during the first quarter, bucking a global trend that saw demand increase as investors bought gold as a safe haven from the economic maelstrom, the World Gold Council (WGC) said in its quarterly report in May.
"The volatile prices of gold is another factor that is scaring buyers, but I think the price will stabilize over the coming few months which should push sales up again," said
Pradeep Unni, a trader from Richcomm Global Services.
Retailers in Dubai's gold souk believe the slow sales will continue until the end of September and might pick up by the end of the year as the economy recovers.
"We are hoping that the economic conditions will improve by October to November, otherwise many businesses will be in trouble," a retailer said.
Many retailers have started to introduce 22 karat gold into their product mix, rather than 18 karat, as it is more popular with buyers from the subcontinent due to its higher value, traders said.
"A lot of the buying power comes from the Indians and Pakistanis who just go after 22 kart," said a salesman at a store in Duabi's gold souk.
By Amena Bakr
© Thomson Reuters 2023 All rights reserved.