EBay scores victory in Internet trademark case
By Martha Graybow and Alexandria Sage
NEW YORK/SAN FRANCISCO (Reuters) - EBay Inc scored a major legal victory on Monday when a federal judge absolved it of taking more steps to police fake Tiffany jewellery sold on its website and held that brand owners are ultimately responsible for protecting their own trademarks.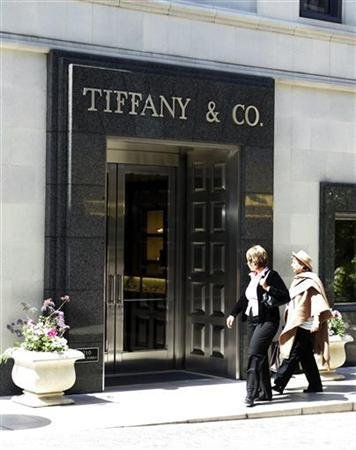 All of Tiffany's trademark infringement claims against eBay were rejected -- a knockout blow to the four-year-old lawsuit that had been closely watched by Internet companies as well as luxury goods makers seeking to stop the sale of counterfeit products online. The ruling is expected to be appealed.
Tiffany & Co had alleged that eBay turned a blind eye to the sale of fake Tiffany silver jewellery on its site. EBay countered it was not in a position to determine which goods were knock-offs of the prestigious New York brand and had said the jeweller did not adequately participate in eBay's programs that help brand owners prevent fraud.
The judge, in a 66-page decision following a non-jury trial in U.S. District Court in Manhattan last November, said he was "not unsympathetic" to Tiffany and others who have invested in building their brands only to see them exploited on the Web. But he said the law was clearly on eBay's side.
"It is the trademark owner's burden to police its mark and companies like eBay cannot be held liable for trademark infringement based solely on their generalized knowledge that trademark infringement might be occurring on their websites," wrote Judge Richard Sullivan.
EBay called the ruling a "victory for consumers," saying it "appropriately establishes that protecting brands and trademarks is the primary burden of rights owners."
"All I can say to that is that I'd be surprised if Tiffany did not appeal this decision," said Mark Aaron, Tiffany's vice president of investor relations.
He said Tiffany was "shocked and deeply disappointed" by the ruling, which "allows sellers of counterfeit goods on eBay to victimize consumers."
Jeffrey Lindsay, an Internet analyst with Bernstein Research, said the ruling -- coming on the heels of a similar case in France that resulted in an eBay defeat -- allayed some Wall Street concerns of snowballing lawsuits.
"Anything short of victory for eBay would probably have added to investor concerns that there would be a slew of lawsuits down the pike," said Lindsay.
Tiffany had wanted eBay to pre-emptively take down listings that offered five or more of its items and immediately suspend sellers Tiffany suspected of fraud. It had also sought monetary damages from eBay. The judge rejected all claims.
Ebay, which has been trying to increase trust between buyers and sellers in its main auction business, has increased spending on technology and people to stem the sale of fake goods on its site.
San Jose, California-based eBay says it takes down more than 90 percent of fake goods from its site within four hours of their posting after being alerted by trademark holders.
Judge Sullivan found that Tiffany's claim ultimately failed due to Tiffany's choice to sue eBay, rather than individual sellers, and because eBay stops fraudulent listings after being alerted to violations.
U.S. courts have largely taken the position that it is the trademark owner's responsibility to determine which goods sold online are counterfeit. Under this view, a party such as eBay is liable only when it fails to remove offending items once alerted by the trademark owner.
Still, case law has been spotty and at times inconsistent.
In Europe, courts have sometimes taken a more protectionist view. A French court earlier this month ordered eBay to pay $61 million (31 million pounds) to LVMH, parent of the Christian Dior and Louis Vuitton brands, over fake luxury handbags and perfumes on its site. Ebay is appealing.
EBay has argued that a more open marketplace is key for vibrant Internet commerce.
"This would have ended up foreclosing an entire category of eCommerce," said Steve DelBianco, executive director of high- tech industry group NetChoice Coalition, speaking of the sale of trademark items on the Web.
EBay argued the issue of counterfeit goods is a red herring. Luxury brands, according to eBay, are more interested in keeping a tight rein on distribution of their goods than in keeping knock-offs off eBay's site.
Brand experts say the issue is far from over.
"This is only one round of a very long bout," said Milton Pedraza, chief executive of ratings and research group Luxury Institute, who said that, ultimately, it will be consumers who will demand authentication of goods purchased online.
EBay shares closed down 1.86 percent at $27.49 on Nasdaq due to a weak day for Internet stocks. Rival Amazon.com Inc closed 3.3 percent down and Google Inc was off more than 2 percent.
(Writing by Alexandria Sage; additional reporting by Aarthi Sivaraman in New York; editing by John Wallace and Andre Grenon)
© Thomson Reuters 2023 All rights reserved.