Economic woes cramp style of Japanese luxury shoppers
By Sophie Hardach
TOKYO (Reuters) - Designer boutiques in Tokyo are still packed with well-dressed young people, but these days, few of them carry shopping bags.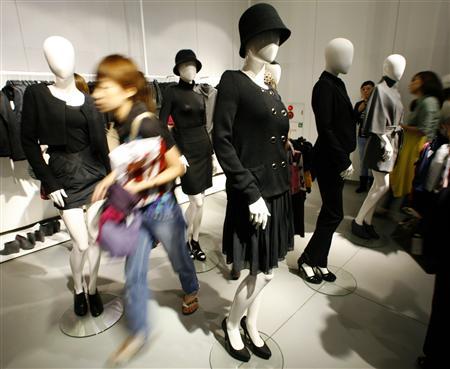 As Japan's economy heads toward recession and its stock market hovers around a 5-year-low, shoppers are closing their wallets, and the impact on European fashion houses has been dramatic.
From Louis Vuitton to Versace, brands are testing new strategies for the world's second-largest luxury goods market after the United States, such as wooing the super-wealthy or using Tokyo as a shopping mall for the rest of Asia.
But so far, no company appears to have found the magic formula to cure Japan's luxury malaise.
"Some of my friends really like to buy designer brands, but in general, brands are less important now," said Hiromi Takahashi, a 38-year-old office worker wearing a black top embellished with studs and sequins.
"We all talk about food prices, oil, the cost of living."
Takahashi was browsing through Jean-Paul Gaultier jackets and Alexander McQueen tops at Via Bus Stop, a boutique in Tokyo's sleek Midtown shopping mall. She did not plan to buy any of the clothes, preferring cheaper labels.
Around her, young couples and groups of women were toting small gift bags with accessories by mid-range brands -- affordable treats in the midst of a shrinking economy.
Japan's gross domestic product contracted 0.7 percent in the April-June quarter, more than expected.
At the same time, prices are rising while wages are not. Core inflation was stuck at a decade-high 2.4 percent in August due to high fuel and raw material costs, but cash earnings actually slipped 0.3 year-on-year that month and household spending was down 4 percent.
No wonder consumer confidence hit a record low in September.
"It's not just luxury goods but also other clothes and eating out and cars and oil products, mainly because of the price rises," said Azusa Kato, chief economist at BNP Paribas.
She attributed the luxury goods slide especially to the decline in Tokyo's stock market, which hurt the middle class. The Nikkei share average has lost about 45 percent so far this year.
YOUNG SPENDERS
The downturn has also erased another much-cited Japanese phenomenon, the so-called "parasite singles," young professionals living with their parents who would spend all their money on Louis Vuitton wallets and Chanel bags.
After the decade-long 1990s recession and the bursting of the technology bubble in 2002, Japanese companies fired employees and hired temporary workers, drying out the young spenders.
"Now, many young people are on short-term contracts. Their income is low, so they have to live with their parents and their spending is very low," Kato said.
Luxury firms used to love Japan for its broad consumer base with a traditional fondness for quality, craftsmanship and the ability to blend in by wearing certain brands.
At France's Hermes, Executive Vice President Patrick Albaladejo said in September that his business had suffered with Japan's soft economy because many of his customers were middle-class consumers.
His solution: focus on Japan's next-door neighbor, China, and on the super-rich.
"We expect to see very, very solid growth in our existing stores in China," he said at the time.
As Japan's middle crumbles, many other luxury executives turn their attention toward the very top, and toward the island's neighbors.
But they too are not immune to the global economic gloom. In Hong Kong, retail sales in August grew 3.9 percent by volume from a year earlier, the weakest growth in 16 months, though stellar compared to Japan's 0.7 percent rise for that month.
Over the past couple of years, brands such as Armani, Bulgari and Gucci have opened huge, glamorous Tokyo flagship stores complete with restaurants and even a spa, hoping to attract wealthy fashionistas from all over Asia.
They are also aggressively targeting the one domestic class that is still spending: the new rich who have emerged in sectors such as information technology and like to show off their wealth.
Elite buyers can be seen at the Louis Vuitton boutique in the Roppongi Hills complex, which houses the Japanese headquarters of Goldman Sachs and the apartments of several billionaires.
LOUIS VUITTON'S SECRET BAG
Inside the spacious boutique, smiling women greet visitors with a bow, while a handful of customers look at bags, shoes and ruffled dresses costing upwards of 500,000 yen ($5,000). When this boutique first opened, long queues would form outside.
"Over the past year, fewer and fewer people have been coming to this shop," said shop assistant Takashi Hara. "The economy is decreasing. But we do see more and more rich Chinese tourists, they know rich Japanese people live here so they come here."
If there is one brand that has symbolized Japan's passion for labels, it is Louis Vuitton. Japan makes up 10 percent of the total revenue of LVMH, the world's biggest luxury group.
Louis Vuitton's strategy for Japan reflects the sector's broader effort to court the super-high segment.
Hara and his colleagues send birthday cakes to regular clients and even show them a "secret" bag made of crocodile skin that is not advertised nor displayed in shops.
The price tag: 6,000,000 yen ($60,000). Two or three Japanese have bought one so far.
But a hard look at the numbers seems to show that Japan's new billionaires, and even the rich Chinese, cannot offset the loss of thousands of Japanese secretaries who used to pay off the latest handbag in credit card installments.
LVMH saw yen-denominated sales in Japan fall 7 percent year-on-year in the nine months to September 30. In contrast, they rose 22 percent in the rest of Asia and 9 percent in Europe.
Hermes and Italian jeweler Bulgari reported a modest rise in Japanese sales of 1.5 percent and 3.8 percent, respectively, for the six months to June 30. European sales rose 27.8 percent at Hermes and 7.5 percent at Bulgari over that period.
The young and female shoppers are now rarely seen in Roppongi Hills, where they cannot afford any of the goods on show.
Instead, they go to Ginza. They walk along the beautifully decorated windows of Gucci, Chanel, Bulgari, and Hermes, marvel at the rippling silk dresses, hand-stitched bags and sparkling necklaces, and then head to the newly opened Hennes & Mauritz branch for a little feel-good shopping.
(Editing by Megan Goldin)
© Thomson Reuters 2023 All rights reserved.