Egypt's Arafa's profit $4.83 million in quarter to July
CAIRO, Sept 15 (Reuters) - Arafa Holding (AIVC.CA), Egypt's biggest garment exporter, said on Tuesday 15 September consolidated net profit fell to $4.83 million for the three months to July 31.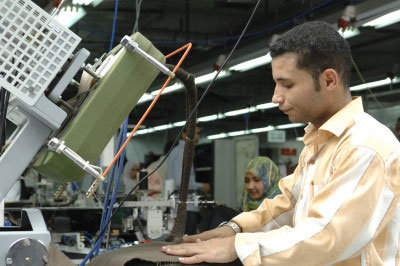 Photo: www.arafaholding.com
The company changed its financial year to end in January instead of March, and as a result, no direct comparisons could be made. For the three months to September 30, 2008, Arafa reported net profit of $8.66 million.
Arafa, which makes and retails garments in Egypt and Europe, said sales to its key British market had been hurt by a fall in the value of the British pound and by recession.
Despite a global shrinkage in retail spending, the company said its results showed "extreme resilience and was still able to post positive operating results."
The company reported sales of $80.0 million compared with $105.1 million for the three months to end-September 2008.
Arafa's shares fell 3.5 percent to 0.83 Egyptian pounds on Tuesday 15 September. ($1 = 5.5138 Egyptian pounds) (Writing by Patrick Werr; Editing by David Cowell)
© Thomson Reuters 2021 All rights reserved.