EU shoemakers drop call to extend Asia shoe tariffs
Published
today
Jan 11, 2011
Jan 10 - European shoemakers will drop their call for an extension of contentious import tariffs on shoes from China and Vietnam, instead seeking strict monitoring of imports, Europe's largest footwear group said on Monday.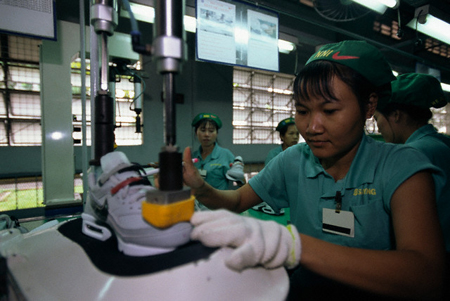 Nike employee making shoes at a factory in Vietnam
EU officials have agreed to conduct weekly monitoring of shoe imports in return for European shoemakers -- based mainly in Italy -- allowing punitive import duties to expire at the end of March, the industry group said.
"We no longer have the support by EU governments and if we go on like this (asking for extensions) we will lose, for sure," Vito Artioli, chairman of the European Confederation of the Footwear Industry, told Reuters. "So we decided to have other guarantees."
Duties affecting leather shoe imports worth hundreds of millions of euros per year have been in place since 2006. They had been set at 16.5 percent and 10 percent for China and Vietnam respectively, to counter what the EU said was illegal market dumping by the two countries' exporters.
The case split EU members in the past, with arguments over whether the duties were justified or merely protectionist and highlighting divisions over the future of manufacturing in Europe and prompting China's first legal challenge to the EU at the World Trade Organisation.
In a meeting with EU trade chief Karel De Gucht and top trade officials on Monday, Artioli secured promises of strict monitoring of import data for evidence that China or Vietnam are illegally subsidising their shoemakers, handing out cheap state loans or breaking intellectual property rules -- issues that could prompt new defensive measures against imports.
MANDATORY LABELLING
Commission officials assured Artioli they will support a drive for mandatory labelling rules on imported shoes, which Italian shoemakers hope will galvanise European consumer loyalty.
"It is very important for EU consumers ... The origin of the products must be written in capital letters," Artioli said.
The European industry also wants Brussels to press China into opening its markets to higher end EU footwear aimed at China's rapidly expanding ranks of consumers.
Leather shoe duties were introduced in 2006 for two years and extended in 2009 despite fierce opposition from some EU governments, importers such as Clarks and Metro and European producers with vast Chinese factories such as Puma and Adidas.
The 2009 extension was approved only after a tacit agreement that Italy -- home to a large shoemaking sector -- would not back any more industry requests.
"We are glad this agreement will be respected. Open markets will provide the best conditions for a strong European footwear sector in the future," said Karl Sedlmeyer, chairman of the trade committee of the Federation of the European Sporting Goods Industry, whose members include Adidas, Puma and Nike.
Any evidence of wrongdoing by Asian shoemakers will be vetted under new EU procedures that favour large EU countries with traditional manufacturing bases. That could mean Monday's apparent climb-down by EU shoemakers will not necessarily end the footwear row for good.
By Juliane von Reppert-Bismarck
© Thomson Reuters 2020 All rights reserved.