European tax reform worries
As the EU rethinks its import preferences for developing countries most in need, it could take away the Generalised System of Preferences (GSP) from almost one hundred countries. Russia, the United Arab Emirates, Saudi Arabia, Turkey, Algeria, South Africa, Mexico and Indonesia are some of the countries that could lose this benefit.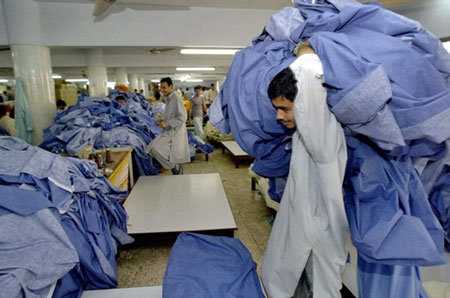 Factory in Karachi, Pakistan. (Photo: AFP)
For EU Trade Commissioner Karel De Gucht, the project's goal is to limit the scheme to only about 90 countries. According to AFP, India will be the country most negatively affected by the change, given that half of its exports to Europe, around 6,200 types of products, are duty-free. On the other hand, countries in the GSP+ scheme could have their benefits increased. This is precisely what is worrying the European Apparel and Textile Confederation (Euratex), which sees this as a window of opportunity for Pakistan to increase its production.
"Pakistan is among the top world exporters in textile and clothing and the fourth EU supplier," said Euratex's president. "In 2010 its exports to the EU have increased by more than 20% in value and 6% in volume. This decision, apart from having a negative impact on the EU industry, will erode the preferences of the countries in need in favour of a stronger and already prevailing market player".
Copyright © 2023 FashionNetwork.com All rights reserved.