Europeans leave it late to get Christmas tills ringing
LONDON - Cash-strapped Europeans are playing a multi-billion dollar game of chicken this Christmas, holding back from buying presents in the hope jittery retailers will cut prices rather than risk being left with unsold stock.
The fall of Christmas Day on a Tuesday means it will effectively be preceded by a three-day weekend as most workers will break-up for the holidays on Friday. That encourages shoppers to leave it late, and makes retailers nervous.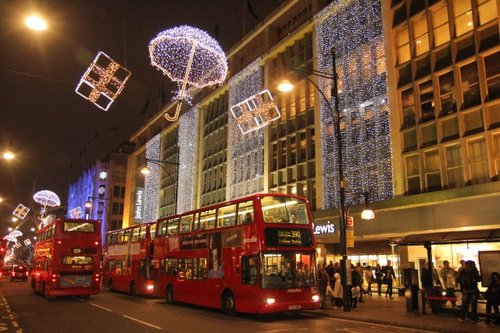 Oxford Street, London / Photo: Corbis
"The most important days of Christmas trading are yet to come," Henning Kreke, chief executive of German perfume, books, clothing and jewellery retailer Douglas, told Reuters.
"Fortunately, the economy in Germany is stable and consumer spending is at a good level," he said, adding Douglas, like many German retailers, is expecting a better Christmas than in 2011.
Janina Leber, 28, a carer at a children's home in Frankfurt, said she was planning to spend around the same as last year.
"But then the financial crisis has mostly passed us by in Germany," she added, while sipping Gluehwein at the Christmas market in Frankfurt's picturesque Roemer square.
Germany, Europe's biggest economy, is the exception, though.
Most consumers across the region have been suffering as rising prices and meagre wages growth squeeze disposable incomes. Unemployment, fears over job security and the lingering debt crisis have also hit spending.
Euro zone consumer confidence in November sank to a 42-month low, a worrying backdrop for retailers which can make as much as half of their annual profit over Christmas.
Business advisory firm Deloitte predicts Christmas spending on presents, food and drink, and entertainment, in 16 major European countries, not including Britain, will fall 0.8 percent year-on-year, with big disparities between countries.
Spending is predicted to rise 7 percent in Germany, 4.1 percent in Switzerland, and 0.7 percent in France.
But it is forecast to plunge 16.2 percent in Greece, 13.5 percent in Portugal, 3.9 percent in Spain and 3.7 percent in Italy - countries worst hit by swingeing austerity measures designed to cut government deficits.
THE MAGIC OF CHRISTMAS
"On the children I'm spending the same, for everybody else, less. I'm paying for the children's presents with a credit card in instalments. You have to keep the magic of Christmas," said Teresa Fernandez-Gaytan, 42, a lawyer in Madrid.
Paris shoppers Lana, 35, and Yannick, 50, have a present budget of 400 euros for their seven year old son. "Children will have presents but we cannot go on holidays," they said.
In Stockholm's medieval Old Town, Lars-Bertil Blomqvist, a stallholder for 43 years, said sales of cotton candy had halved so far this year compared with 2011 and ponders whether that is due to fewer school visits or the economic downturn.
A separate Deloitte survey for Britain, which is also suffering big cuts in government spending but has seen a recent increase in employment, predicts Christmas sales will edge up by 1 percent this year, though with inflation running at 2.5 percent sales volumes will fall.
An industry survey on Wednesday said December trading in Britain had got off to a slow start.
"It could go either way, we're not jumping for joy but we're not slashing our wrists either," said an executive at a British FTSE 100 retailer.
Though fashion retailers across Europe have been boosted by colder weather in the autumn and winter than last year, discounting is still rife. A survey by accountants PwC found 69 percent of Britain's high street retailers were "on sale" or advertising promotions in their shop window last week.
"People are buying things for 10 euros when they would have spent 20 before," said Yolanda Perez, 40, sorting paperwork behind the till of her women's clothes shop Arropa Que Hay Poca in Madrid's central shopping district of Goya.
"I'll spend less too - if you don't have money coming in, how can you spend?"
Just as the pain is not being shared out equally among European consumers, retailers are facing different fortunes.
Internet retailers will continue to be a bright spot as time-pressed shoppers seek the convenience of buying online, often at keener prices.
Supermarkets should also benefit from consumers spending more on meals at home as they cut back on expensive nights out.
But specialist stores - particularly those most exposed to online competition like British music, film and games retailer HMV - are fighting for their lives.
"Customers are finding budgets very tight. They are economising, they are looking for ways to save money," said Mike Coupe, commercial director at Britain's J Sainsbury.
"We'd expect people to batten down the hatches post Christmas."
© Thomson Reuters 2023 All rights reserved.