Facebook shopping discount service reaches Europe
Jan 31 - Facebook expanded its shopping discount service to five European countries and Canada on Monday, part of its push to help brands communicate with its users.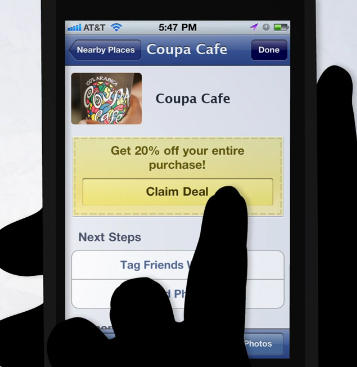 Facebook Deals
Facebook Deals, which has already started in the United States, offers Facebook users deals in retail outlets and posts a notice on their Facebook wall when they claim a deal, publicising the deal to the users' friends.
"That amplification means exponential connection to consumers," Joanna Shields, head of Facebook's operations in Europe, told a news conference in London.
Initial UK partners include Starbucks, which will offer a free coffee to the first 30,000 customers checking in using Facebook Places on Monday, and food chain Yo Sushi.
Facebook Places lets users broadcast their location. By offering Deals, Facebook could entice more people to use the location-based service while opening up new revenue opportunities. It may also encourage more users to access the social network via their mobile phones.
The service is being launched in Britain, Germany, France, Italy, Spain and Canada on Monday. Facebook said it planned eventually to launch the service everywhere.
Facebook, the world's biggest social network, is preparing to open its books this year or early in 2012 to give investors a glimpse into its financial workings.
Earlier this month it sealed an oversubscribed $1.5 billion round of financing led by Goldman Sachs.
The financing, $1 billion of which is from Goldman Sachs's overseas clients and $500 million from Goldman itself and Russian investment firm Digital Sky Technologies, gives the company a projected value of $50 billion.
This sets the stage for what would be one of the world's largest initial public offerings next year.
(Reporting by Georgina Prodhan; Editing by Will Waterman)

© Thomson Reuters 2023 All rights reserved.