Fashion borrows from the world of video games with Label Hit
When you realize that there are 160 million video gamers in Europe it becomes easy to understand Label Hit's desire to expand into a hitherto untapped market – clothing inspired by video games. The idea was to establish a brand which drew from the worlds of Lara Croft, Hitman, Assassin's Creed and others, in order to create a label that was "shifted, fashionable, without being cheap," explained Patrick Vaccaro, co-founder of Label Hit with his associates Laurent Badin and Philippe Boiché.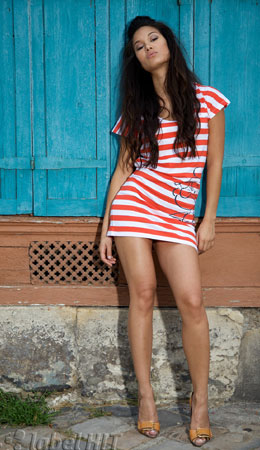 Label Hit 2009
Launched two years ago, the brand produces all of its clothes in Portugal and is already endowed with a particular style. "Four people work in our design department," continued the director, who wants to target "17-40 year olds, players or not." For the moment, the collection consists of t-shirts and short dresses but Label Hit wants to develop and branch out; there is no question of the label penning itself in with just a few items with pictures of heroes from the realms of fantasy. Label Hit is aiming higher, pushing style and dressing up graphics.
Furthermore, in addition to images from current video games, the brand has designed its own lines, "designed by Label Hit," with Japan Spirit (from summer 2010) and Poker (since the beginning).
Label Hit 2009
Twenty-five agents have been deployed across nine European countries of which seven are in France and eight in Italy, and negotiations are underway with distributors in the United Kingdom.

By Jonathan Fulwell (Source: Julie Mangaud)
Copyright © 2022 FashionNetwork.com All rights reserved.