Fashion firms take on slimmer silhouettes for shows
By Astrid Wendlandt and Marie-Louise Gumuchian
PARIS/MILAN (Reuters) - Fancy canapes and champagne have become rarer, guest-lists smaller and celebrities tougher to find in the front rows of some fashion shows these days.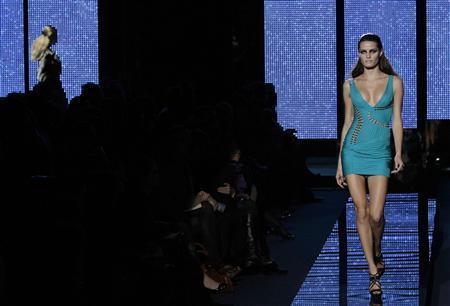 From New York to London, Paris and Milan, fashion houses, particularly smaller ones, have cut back on catwalk expenses while others have pulled shows altogether as the luxury sector feels growing pain from the downturn.
At Milan womenswear fashion week which ends March 4, the number of shows slipped to 79 against 99 last year.
"There are fewer catwalk shows but more presentations," Mario Boselli, chairman of Italy's National Chamber of Fashion, said, adding more brands were presenting overall at the week.
Examples of brands staying off the podiums include La Perla, which opted for presentations by appointment.
In January, there were 20 percent fewer shows at menswear fashion week, Boselli said. Italy's textile and clothing sector is already seeking government help as the crisis sweeps into the demand for clothes and accessories.
Buyers attending fashion shows -- from small trendy boutiques in Paris or Milan or department stores such as Saks and Bloomingdale's in New York -- said they planned to reduce their purchases this year, some by up to 30 percent.
At New York fashion week last month, regulars said shows were smaller, several had empty seats, the usual gift bags were minimal or missing and several familiar faces in the fashion industry were absent from the audiences.
Marc Jacobs, who has his own brand and also designs for Louis Vuitton, halved invitations to 1,000 for his New York show.
His company said the move meant to reflect the environment. It wished to put more emphasis on the collection. "We wanted to put the focus more on the clothes themselves rather than on the show," Marc Jacobs CEO Bertrand Stalla-Bourdillon said.
One guest at the Carolina Herrera show, a collection director herself for another brand, said this year's open bar at the after-show was shorter than usual. She added the buffet at Zac Posen was lighter and simpler than in the past.
"At Zac Posen, there were mainly fruit baskets and sandwiches, no fancy canapes," she said, declining to be named.
CAUTIOUS SPENDING
Big names in the fashion industry said they were cautious about spending but it would not be felt at their show.
Italy's top names like Giorgio Armani and Versace held two runs to present their designs as they always do. Roberto Cavalli pulled his Just Cavalli show due to financial problems at its distributor, which went into special administration last month.
The main Roberto Cavalli show went ahead, with model Milla Jovovich, model and actress Elizabeth Hurley in the front row.
Designers Dolce & Gabbana had Hollywood actresses Scarlett Johansson, Eva Mendes, Naomi Watts and Kate Hudson as well as models Claudia Schiffer and Eva Herzigova at their show.
In Paris, Dior, Louis Vuitton and Hermes said they would hold shows as planned and intended to spend as much as would be needed to send their artistic and commercial messages across.
But some organisers admit the industry has entered an era of restraint. "Before, there was a race for the most flamboyant shows at the most prestigious venues," says Etienne Russo, head of Villa Eugenie, a fashion show production company which works for Hermes, Lanvin, Chanel, Sonya Rykiel, Miu Miu among others.
"Nowpeople now are asking themselves whether certain expenses are necessary...This is the opening of a new chapter."
Lanvin held its January menswear show in the courtyard of a Paris lycee. France's oldest fashion house said it was more careful now about managing costs. "We are concerned about the downturn and vigilant about our expenses," a spokeswoman said.
"We know we have to stay within a certain budget."
Chanel, which did not renew contracts for 200 temporary staff at the end of the year, held its January Haute Couture show at a private pavilion close to its offices.
In recent years, it had usually held it at the prestigious Grand Palais off the Champs-Elysees. The fashion house said the Grand Palais was not available at that time and it would be back there in March for its ready-to-wear collection.
Chanel designer Karl Lagerfeld said at the last show there had been "too much bling-bling, too much of everything," during the bubble years that preceded the downturn.
In London, fashion week was cut to 4.5 days from six days and the number of shows to 52 against 57 last year but organisers said the cut had more to do with schedule conflicts with New York fashion week than the financial downturn.
(Additional reporting by Ellen Wulfhorst in New York, Catherine Bosley and Kylie MacLellan in London)
© Thomson Reuters 2023 All rights reserved.