Fashion house Tom Tailor aims to cut debt with IPO
By Eva Kuehnen and Alexander Huebner
FRANKFURT (Reuters) - German fashion house Tom Tailor plans to float its shares on the Frankfurt stock market in two weeks' time as it aims to raise about 140 million euros ($193 million), mainly to pay down debt.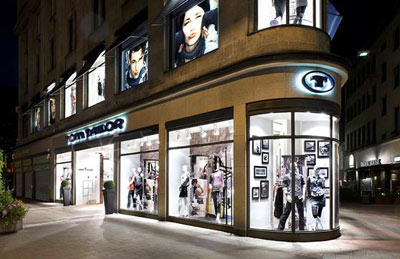 Tom Tailor
The German casual wear company plans to sell up to 24.7 million shares from a capital increase as well as up to 1 million shares from the current owners, which include private equity company Alpha Group and Tom Tailor founder Uwe Schroeder.
The subscription period is expected to start on March 19 and shares will start trading on Frankfurt's stock exchange a week later, on March 26.
Tom Tailor's move comes despite the recent abortive attempts to float made by other private equity-backed companies like British budget fashion retailer New Look, theme parks and tourist attractions operator Merlin Entertainment and travel group Travelport.
Germany has not seen a sizeable IPO in 18 months due to choppy capital markets in the wake of the financial crisis.
German cable television company Kabel Deutschland (KDG) KABLD.UL could be the first with its $1 billion IPO scheduled for later this month.
KDG's offering -- which would be Germany's biggest since Hamburger Hafen und Logistik's $1.7 billion issue in 2007 -- is being closely watched by other IPO candidates including German chemical distributor Brenntag, Spanish travel reservations firm Amadeus and Nordic telecoms company TDC.
But Tom Tailor's chief financial officer, Axel Rebien, said the KDG's success or failure will have no significant impact on Tom Tailor's listing since it was a completely different business.
And even last month's withdrawal of New Look's IPO plans left Rebien unfazed. "Our business model is different from companies like New Look," he said.
WEARING DOWN DEBT
Tom Tailor makes casual wear for men, women and children which it sells in its own 87 stores, various franchise stores as well as shop-in-shop and other selling points. It plans to expand this network with the proceeds from the IPO.
"We want to grow organically and are not planning any acquisitions at the moment," Rebien said.
But the majority of the targeted 140 million euros in proceeds from the capital increase will be used to pay down debt, which stood at 180 million euros at the end of 2009.
"Apart from funding our expansion we want use the proceeds from the IPO to pay down up to 110 million euros in debt. That way our debt to EBITDA ratio would be 1 after the IPO," Rebien said.
The Hamburg-based company, founded in 1962, will list its shares on Deutsche Boerse's (DB1Gn.DE) prime standard index -- a prerequisite to joining one of the main German market indexes.
"We are aiming for the SDAX," said Rebien, referring to Germany's small-cap index .SDAXI.
($1=.7257 euros)
(Editing by Michael Shields, Greg Mahlich)
© Thomson Reuters 2023 All rights reserved.