Fashion pioneer Vionnet's work on show for first time
PARIS, June 28, 2009 (AFP) - Although the name of Madeleine Vionnet is hardly known today, in her heyday she was regarded as being as important to fashion as Picasso was to painting.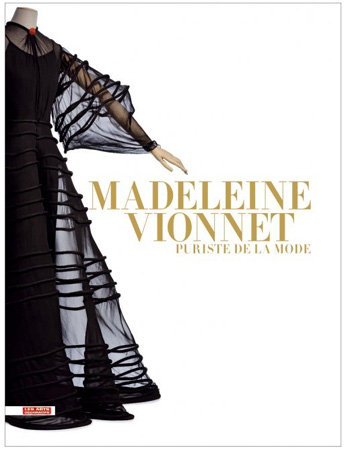 Madeleine Vionnet's catalogue, purist of fashion
A landmark first retrospective of her work at the Musee des Arts Decoratifs pays a long overdue homage to her contribution to changing the face of fashion from 1912 until 1939, when she closed her fashion house in the shadow of World War II.
In fashion circles she remains a legend, one of the first modernisers and most innovative designers of her time, particularly for her pioneering use of the bias cut and draping which freed women's bodies from the constraints of the corset.
Her influence on later generations of designers as diverse as Cristobal Balenciaga, Azzedine Alaia and Yohji Yamamoto has been unparalleled.
"These are pieces which are not about prettiness but about beauty," says Pamela Golbin, curator of the show, who spent the best part of two years assembling the 130 models on display.
Vionnet was a purist, a perfectionist, inspired by the classic beauty of Greek antiquity as epitomised in the pared down simplicity of the "peplos" - a rectangular sheet draped round the body, knotted at the shoulder and gathered into the waist.
She built her designs round three archetypal shapes: the rectangle, the square and the circle.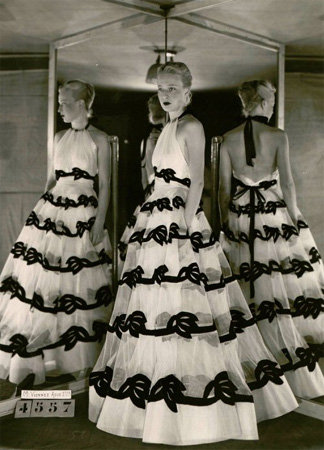 Winter collection 1938 - Les Arts Décoratifs, Union Française des Arts du Costume
"Her entire stylistic vocabulary is based on these shapes, she worked on them endlessly, searching for the simplest, most noble expression," explains Golbin, who commissioned intriguing videos of animated graphics of pattern pieces to show exactly how they fitted together.
"For me the idea of a dress is a mental concept", Vionnet once said.
Throughout her career she chose to work on wooden dolls, 80 centimetres high (32 inches), rather than live models, cutting and draping fabric until she was satisfied enough to make up a full-scale version of each model.
She never bothered with preliminary sketches, but recorded all her creations with numbered photos of front, back and side views, which were kept in archive albums.
Albums and dolls are among the exhibits, part of the generous legacy Vionnet bequeathed to the museum before her death in 1975 at the age of 98.
Born into a modest family, Vionnet wanted to be a teacher but was apprenticed to a seamstress at the age of 12. In 1896 she moved to London to work under court dressmaker Kate O' Reilly, who Golbin believes gave her a hard head for business.
Back in Paris in 1901, she went to work for the successful Callot sisters, whom she later credited with teaching her dressmaking was an art. "Without them I would have continued to make Fords. It's because of them I was able to create Rolls Royces."
She left them to work for Jacques Doucet because he allowed her to design her own models, and she finally opened her own house in 1922.
It was in that decade that she established her signature. She was not the first to cut on the bias but it had never been used before for an entire dress, a technique which gave it a whole new dynamic, says Golbin. She is also credited with popularising cowl and halter necks.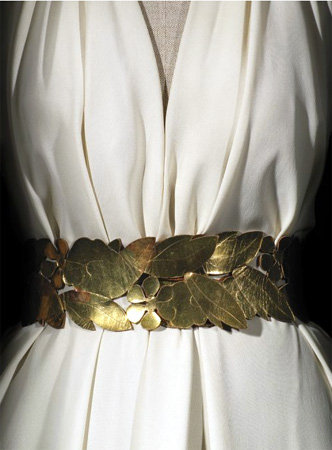 Robe du soir, hiver 1936 - Les Arts Décoratifs, Union Française des Arts du Costume © Patrick Gries
Her fetish material was crepe, from feather light to ultra heavy, because of its fluidity.
From 1930, manufacturers began producing it in widths of 1.4 to two metres, allowing whole dresses to be cut on the bias, to produce the sinuous, clingy confections that were her hallmark. Without lining or fussy hooks and underpinnings, the precision cutting was fundamental.
Decoration was never superfluous but an integral part of the structure and balance of each garment, from the fragile fringes looped around a hem to a ring of delicate roses circling the waist.
Vionnet had great facility: she once said dresses "came out of me like a baker mixing dough."
The museum had wanted to stage a tribute to Vionnet for years, but had to find a sponsor with deep pockets as many dresses were in dire need of restoration.
"The tulle, especially, was not in very good condition. These dresses are, after all, 70 to 90 years old. Like old ladies, they needed a little spa treatment," says Golbin.
The exhibition is on for longer than usual, until next January, to take in all the important dates in the fashion calendar in Paris, to allow as many people as possible to see it.
"These dresses haven't been seen for years, and after this they will be put away again for a long time. This is their moment to shine."

by Sarah Shard
Copyright © 2023 AFP. All rights reserved. All information displayed in this section (dispatches, photographs, logos) are protected by intellectual property rights owned by Agence France-Presse. As a consequence you may not copy, reproduce, modify, transmit, publish, display or in any way commercially exploit any of the contents of this section without the prior written consent of Agence France-Presses.