Fashion's Night Out brings out crowds
NEW YORK (Reuters) - Fashion's Night Out, a string of events in New York and cities around the world to revive the recession-hit industry, turned out the crowds but it was unclear whether people would start spending, participants said.
The coordinated events on Thursday (10 September) night at thousands of shops, an idea launched by U.S. Vogue magazine editor Anna Wintour, was aimed at making shopping feel good again for customers worn down by economic hard times, organizers said.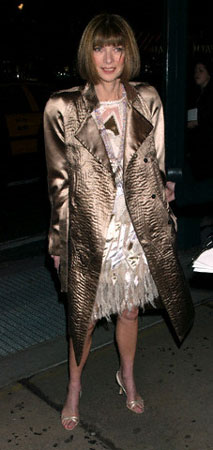 Anna Wintour
Shoppers were elbow-to-elbow at stores along on New York's main shopping streets, where celebrities such as Charlize Theron, Justin Timberlake and Sarah Jessica Parker were on hand to help the promotion.
"The point of last night was to get people into the stores, and it accomplished in an enormous way what it set out to do," said Robert Burke, of Robert Burke Associates, a luxury New York consulting company.
"Whether people bought last night or they didn't, they are going to see things they hadn't seen in the past and go back and buy, so I think the residual effects of last night will last for the whole season," he said.
Fashion's Night Out coincided with the first night of New York's semi-annual Fashion Week, where thousands of buyers and media are looking at designers' collections for spring and summer 2010.
Stores in other big fashion centres, including in Britain, Italy, France, Greece, Russia, Brazil, India, Spain, China, Germany, Japan and Taiwan, joined in the initiative.
In London boutiques and several prominent clothes and cosmetics stores stayed open late and arranged special parties or give-aways to draw in a crowd.
Amid the worst U.S. recession in 70 years, retailers have seen sales drop every month for the past year.
At Macy's in New York's Queens borough, Wintour and designers Diane von Furstenberg and Michael Kors were greeted by crowds who lined up to get a glimpse of some of fashion's biggest names.
"Clearly, customers turned out and our New York stores were crowded through the evening. We were very pleased by the results of Fashion's Night Out," said Macy's spokesman Jim Sluzewski.
Macy's declined to comment on sales data, but company executives told The New York Times that the sales from the event would at least cover the expense of keeping eight Macy's stores nationwide open a few hours later than usual.
Shops offered entertainment from dancing lessons to hand massages, promotional souvenir items and plenty of champagne.
At Oscar de la Renta's boutique, de la Renta entertained clientele by singing "There's No Business like Clothes Business," his version of Irving Berlin's "There's No Business like Show Business."
The events were a success, declared Tina Brown, editor of online's Daily Beast and former editor of Vanity Fair.
"The gamble paid off -- well, in turnout anyway," she wrote. "It was a fete de fashion that at least announced that fashion was trying to stay alive.
"The ka-ching of the cash registers from Manhattan's style palaces to the knockoffs in the outer boroughs were singing all Thursday (10 September) night the sweet music of commerce, even if it was only for $30 (17.99 pound) T-shirts."
(Reporting by Michelle Nichols, Camille Drummond and Ellen Wulfhorst, Writing by Ellen Wulfhorst; Editing by David Storey)
© Thomson Reuters 2023 All rights reserved.