Federer makes final date with Nadal
By Pritha Sarkar
PARIS (Reuters) - Rafael Nadal and Roger Federer will play out Act III of their intriguing Roland Garros rivalry after they both trudged into the French Open final on Friday.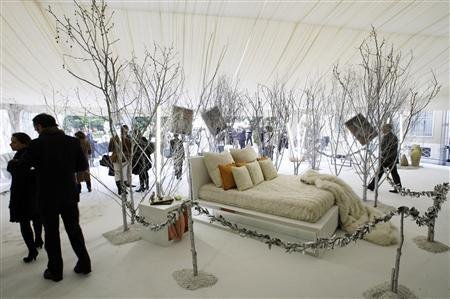 Raw desire and an indomitable spirit allowed three-times champion Nadal to survive a late fightback from Novak Djokovic and he subdued the Serbian 6-4 6-2 7-6 to reach his fourth successive final in Paris.
While Nadal toiled for almost three hours to preserve his perfect record at the claycourt major, extending it to 27-0, Federer took even longer to extinguish France's hopes of producing a home champion for the first time in 25 years.
Gael Monfils, ranked 59th, had ridden on a wave of French fervour into his first grand slam semi-final. He proved a handful for Federer and went down fighting 6-2 5-7 6-3 7-5.
The Swiss world number one's progress means that for the third year in a row the Federer-Nadal show will take centre stage on the final Sunday of the championships.
"This is what it's all about and it's a big thrill to play Rafa again," said Federer.
However, should Federer harbour hopes of getting his hands on an elusive Roland Garros crown by ending Nadal's remarkable reign, the Spaniard warned: "I've played a great tournament and I'm going to do everything I can to try and reach the summit."
Nadal lost only 25 games en route to the semi-finals -- the fewest number dropped by a man reaching the semi-final of a grand slam -- and it did not take his opponent long to see why.
The match was billed as the battle for the world number two ranking but Djokovic's status as the third seed seemed to be a mathematical error as he was made to scamper around like a demented puppy.
The second seed had flattened Djokovic at the same stage a year ago for the loss of just 11 games and after the Spaniard had established a 6-4 6-2 3-0 lead, the red-faced Serbian appeared to be heading for an even more lopsided defeat.
With Nadal rolling through the first set, the only drama came in the final game.
The Spaniard's habit of taking an eternity between points finally wore out the patience of the umpire who gave him a code violation for time wasting.
DJOKOVIC WARNED
One point later it was Djokovic's turn to earn a warning after he slammed the ball several rows deep into the stands. Unfortunately for the Serbian, and to the amusement of the giggling crowd, the ball landed on the head of a guest seated in the VIP section.
The task on hand was no laughing matter for Djokovic, however.
Down 1-3 in the second set, Djokovic thought he had opened a window of opportunity when he earned his first break point of the match. Nadal reacted in typical fashion.
He ran his opponent ragged to overcome the danger and then went on a rampage to win 15 successive points on his serve.
Just when it seemed as if Djokovic would suffer the humiliation of being whitewashed in the third set, he suddenly came to life and seemed to remember that, unlike 12 months ago, he was now a grand slam champion.
Forehands and backhands that had been misfiring badly suddenly started to kiss the lines and he crawled back to 5-5 and even conjured a set point on Nadal's serve in the 12th game.
That went begging, however, and Nadal snatched his reprieve to streak 6-0 ahead in the tiebreak, clinching victory on his fourth attempt with a thumping smash.
Among those cheering courtside was Bjorn Borg, the player Nadal will hope to emulate on Sunday by becoming only the second man to win four titles in a row here since the event went international in 1925.
Twelve-times major champion Federer is also chasing a record, to become only the sixth man to complete a career grand slam.
He would have been expected to roll over an opponent whose most notable accomplishment in Paris had been to win the boy's title four years ago but Monfils, backed by a boisterous fan club on Philippe Chatrier Court, overcame his initial stage fright to produce a highly absorbing contest.
After scooting off court to take a bathroom break even before a ball had been hit in anger, the gangly 21-year-old grabbed his moment in the spotlight.
His entertaining antics included diving after futile shots, throwing his racket behind yet another Federer winner and performing the splits behind the baseline.
It got the crowd going but in the end his bag of tricks could not help him to become the first local player to reach the Roland Garros final since Henri Leconte in 1988.
(Editing by Clare Fallon)
© Thomson Reuters 2023 All rights reserved.