Five facts about Prada's family history
Jun 3 - Italy's fashion power house Prada is the first Italian firm to seek an initial public offering in Hong Kong that could value the company at around 8 billion euros.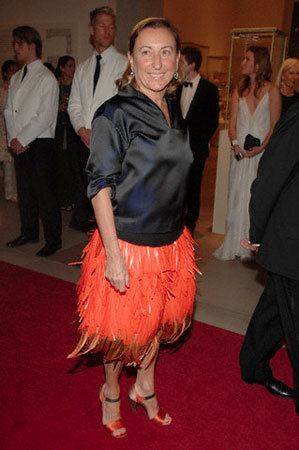 Designer Miuccia Prada attends the Metropolitan Museum of Art's annual Costume Institute gala in New York City. Prada wears her own design (Photo: Corbis)
Here are some facts about Prada, designer Miuccia Prada and her husband and Chief Executive Officer Patrizio Bertelli:
*
In 1913, Mario Prada opened the first Prada store in Milan's grand 19th century Galleria Vittorio Emanuele II, where he mostly sold luxury leather travel cases.
*
A former leftist political science student and mime artist in Milan, Miuccia Prada took over her grandfather's company in 1978. Her minimal black nylon backpack was a big hit in the 1980s and she was later named by The Wall Street Journal as one of the 30 most powerful women in Europe.
*
Around the same time she took over the company, Miuccia Prada met future husband Patrizio Bertelli, who took on the role of CEO, while she focused on designing. The temperamental Bertelli started his career in the business by setting up a factory in the Tuscan city of Arezzo, making belts and bags and working under license with Prada.
*
The 1990s were boom years for Prada, which launched its second brand Miu Miu and went on a shopping spree, buying stakes in fashion brands Helmut Lung, Jil Sander and Fendi, which it later sold.
*
In 2000, Prada Holding planned to float to help pay off debts, but a decline in luxury spending, particularly in the United States and Japan, prompted it to delay the offering. In 2008, Prada postponed its IPO plan for the third time.

Sources: Bernstein Research, Corporate reports and website
(Compiled by Antonella Ciancio; Editing by Will Waterman)
© Thomson Reuters 2023 All rights reserved.