For sale - jewels British king showered on U.S. lover
(Reuters) - Jewels bought by Britain's King Edward VIII for his American wife Wallis Simpson are expected to fetch up to 3 million pounds ($4.55 million) at auction in November, Sotheby's said on Thursday.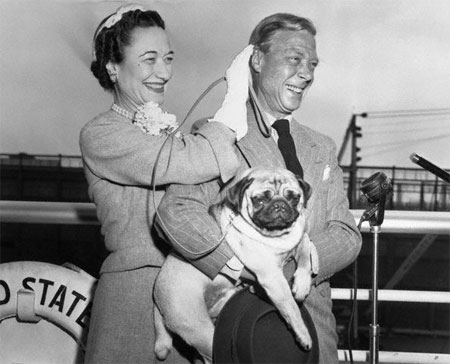 Edward VIII and wife Wallis Simpson. Photo taken on 22 mai 1953. © Bettmann/CORBIS
The king, who renounced his claim to the British throne in 1936 to marry the divorcee, showered her with gifts of jewelry throughout their courtship and marriage.
Many of the "magical jewels" honor events in the couple's lives and are of great importance as both works of art and historical artifacts, said Sotheby's jewelry expert David Bennett.
"They document one of the greatest love affairs," he told Reuters, adding that it was hard to say how much the jewellery's historical significance added to its value.
After Edward's abdication, the couple were given the titles of the Duke and Duchess of Windsor and left Britain, living abroad for the rest of their lives.
One of the pieces, a Cartier bracelet with pendant jeweled crosses, commemorates a series of events in Simpson's life, including an assassination attempt on the king and her own appendectomy.
The 20 lots, ranging from a Cartier panther bracelet to diamond-encrusted cufflinks, are only a fraction of the original "Jewels of the Duchess of Windsor" collection, which was sold soon after Simpson's death in 1986.
Still the most valuable single-owner jewelry sale ever, the collection sold for 31 million pounds, more than seven times the pre-sale estimate.
"With jewelry sales going from strength to strength, these pieces should do very well also," Bennett said. Sotheby's expects strong interest from buyers in the Middle East and Asia.
The selection, which includes silverware and royal medals, will be exhibited around the world before the auction in London on November 30.
By Alessandra Prentice
© Thomson Reuters 2023 All rights reserved.