French court clears Hermes family holding plan
Sept 15 - (Reuters) - Luxury goods group Hermes can create a controlling family holding to ward off advances from rival LVMH and hinder share sales to outsiders by descendants of the founding family, a French court ruled on Thursday.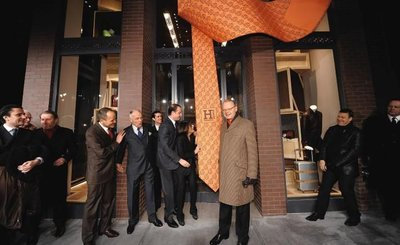 Patrick Thomas, Managing Director at Hermès (beige cloak); (in front of him) Pierre-Alexis Dumas, Artistic Director; Bertrand Puech, President (blue tie), are all reunited to inaugurate Hermès' new boutique for men in New York. D.KAMBOURIS/AFP
The decision upholds an exemption Hermes obtained from France's AMF stock market watchdog that stops it having to buy out other shareholders if it wants to create a family holding.
LVMH, the maker of Louis Vuitton handbags and Celine dresses, has said it does not wish to take control of Hermes but has steadily raised its stake to 22 percent from 17 percent in October and has said it plans to continue buying shares.
Hermes' lawyer has said the company plans to set up a family holding by the end of this year. The entity would own more than 50 percent of the share capital and lock in family shareholders for several decades.
But not all family shareholders -- including Nicolas Puech, who is Hermes's biggest shareholder with 6 percent and the brother of Hermes Chairman Bertrand Puech -- have agreed to transfer their stock to the holding.
Hermes, known for its silk scarves and 7,000 euro ($10,000) Birkin and Kelly handbags, sees LVMH's arrival in its shareholder capital as hostile and rejects proposals of co-operation from the world's biggest luxury group.
The AMF exemption was attacked by French minority shareholders' association Adam, which lodged a complaint with the court of appeal in Paris.
Trading in Hermes shares is suspended on Thursday at the company's request and is due to resume on Friday.
(Reporting by Astrid Wendlandt; Editing by James Regan)
© Thomson Reuters 2023 All rights reserved.