French designer Jean-Paul Gaultier says not planning to retire
Jan 26 - Jean-Paul Gaultier is just a few years from France's new retirement age of 62 but he's not planning to drop his pencils soon, the French fashion designer said on Wednesday after his can-can, punk couture show.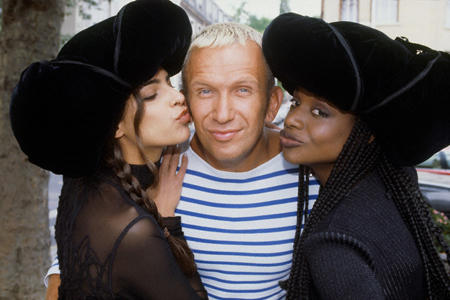 Jean-Paul Gaultier
Gaultier, who presented a collection featuring studded biker jackets on tight-fitting frilled dresses, said he was just as passionate about his work as when he started 15 years ago.
"I really don't think about retirement and about such things," said the designer who turns 59 in April.
"I am lucky because I am in the job I love and when you have passion, you can take in many things," he said, adding that France's 35-hour working week was incompatible with the long hours required to prepare shows and collections.
Gaultier is one of a handful of top designers who are so closely associated with their label and its success that their succession is either not an issue or a sensitive, taboo one.
Members of that club include John Galliano at Christian Dior, Karl Lagerfeld at Chanel, Giorgio Armani and Oscar de la Renta in the United States.
Gaultier showed on Wednesday a collection inspired by an odd but elegantly managed mix of punk and French can-can dance. "I love French can-can, this Moulin Rouge side with the frills etc...," he said.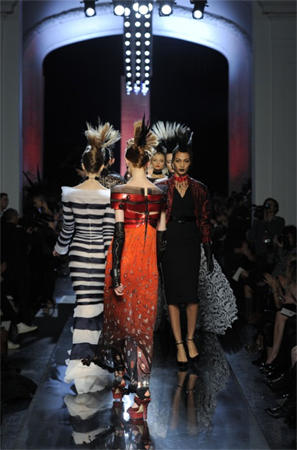 Jean-Paul Gaultier S/S '11 haute couture collection; Paris show
Striking pieces included a dark ruffled dress on white straight pants as well as a tight black dress slit vertically in layers at the shoulders, making reference to Gaultier's traditional stripes.
Models, each with different mohawk punk hair styles, strutted down the catwalk at Gaultier's Paris headquarters to the sound of the recorded voice of French actress Catherine Deneuve, who read out the description of each couture piece.
At the show Deneuve sat next to film maker Pedro Almodovar, who was also at the Dior and Chanel shows this week.
Also present were French actress Arielle Dombasle, model Ines de la Fressange as well as Patrick Thomas, chief executive of the luxury group Hermes which owns 45 percent of the Jean-Paul Gaultier company.
Several U.S. fashion buyers at the show said they never stopped purchasing Gaultier couture during the spending slump of 2008/2009 but it had made them think twice on purchases.
"Now I buy less but better and more significant items, things that stand out," said Cindy Rachofsky who raises funds for non-profit organisations such as the Dallas Museum of Art and has been buying couture for more than 20 years. "You buy fashion because you consider it to be art."
YOUNG SIMOENS
Buyers also discovered a new name in French fashion on Wednesday, 26-year-old Maxime Simoens, whose is reminding many critics of Yves Saint Laurent. Simoens, who trained with the likes of Gaultier and Galliano, designs his own prints himself and made a splash in Paris with his first couture show.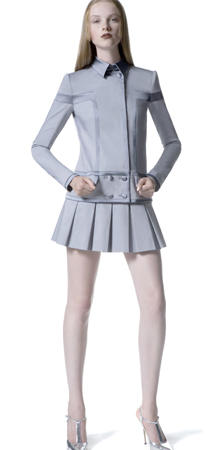 Maxime Simoens S/S 2011 collection
The designer gave his debut show a Versailles theme -- although it was more the rock 'n' roll Versailles of Sofia Coppola's 2006 film, "Marie Antoinette", than a reference to the elaborate costumes of the court of French monarchs.
French rock band "Lily Wood and the Freak" played a soundtrack for the show, which started soberly with a series of monochrome print dresses only to explode into bursts of salmon pink and Aztec-inspired aquamarines.
Little-known models, some of them not yet out of their teens, wafted across the showroom in shape-fitting dresses, often paired with pleated gilets cut off at the ribs. Skirts came in a stiff, frosted fabric that hugged the hips; dresses hung from the shoulders and filled with air at each step.
What began as a sober display with dresses in black and white marbled print soon eased into shimmering pastels. One layered aqua-coloured skirt, paired with a white evanescent blouse, hit a rare note of summer glamour.
Accessories were few but striking -- needle-thin heels and sprawling neckpieces of metallic beads. Two dresses made entirely from tiered layers of such beads -- one blue and gray; the other black and white -- brought applause.
At the end Simoens, who was born in the industrial northern city of Lille, made a cameo appearance in front of the audience, flashing a shy smile under his black-frame glasses. Time will tell if his Harry Potter style becomes as iconic as Gaultier's marinere top or Lagerfeld's black shades.

By Astrid Wendlandt and Nicholas Vinocur
(Editing by David Stamp)
© Thomson Reuters 2023 All rights reserved.