French shoppers stay away from summer clothes sales
PARIS, July 28 (Reuters) - Clothing sales during France's period of summer discounts fell by three percent compared with the same time last year, the country's National Clothing Federation said on Tuesday 28 July.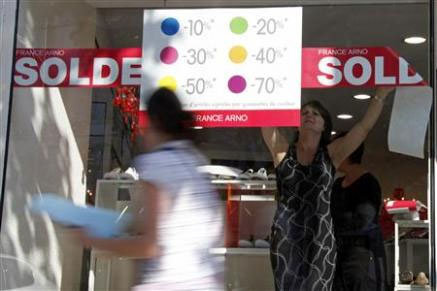 Photo : AFP
A new law passed allowing shops to hold sales earlier in the year and more thrifty behaviour by shoppers struggling with the economic slowdown were to blame for the drop in activity, head of Economic Affairs Frederic Willems told Reuters.
"It's a mixed assessment with deceiving results. There is a drop in activity of three percent on average compared with summer 2008," Willems said.
"In the current context, that's satisfying."
He said sales of discounted items had dropped by more than 3 percent but the fall in the overall number was limited by stronger sales of non-discounted goods.
A law aimed at modernising the economy that was passed last year meant French summer sales were cut to five weeks compared with six weeks last summer, but left shopkeepers free to organise two more weeks of sales whenever they want.
Shoppers had already spent part of their clothes budget during "floating sales" in March and April before summer discounts started, Willems said.
Shrewder consumer behaviour was also to blame.
"Behaviour is now more rational. We buy the things we need the most and not necessarily the discounted items considered as luxuries," Willems added.
Consumer spending, which accounts for over half of gross domestic product, has held up well in France during the financial crisis.
Shoppers splashed out on clothes and shoes in June, fuelling the largest rise in household spending since January. National statistics office INSEE said the start of the summer sales had helped support the data.
However, economists are on the lookout for a fall in consumer spending later this year as rising unemployment hits household budgets.
(Reporting by Noelle Mennella, Writing by Joseph Tandy; Editing by Andy Bruce)
© Thomson Reuters 2023 All rights reserved.