From truffles to watches, UAE luxury retail surges
Feb 10 - Unemployment and rising food prices may be hurting the poor elsewhere in the Middle East and shaking governments to their foundations.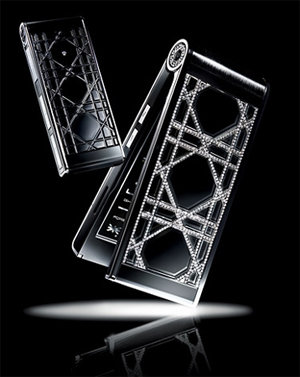 Dior diamond phone
But in Dubai, whether it's chocolate truffles at $272 apiece or jewel-encrusted Dior mobile phones, shoppers are biting into luxury retail again after a downturn hit consumer spending in the Gulf Arab emirate.
Dubai's debt woes and the global financial crisis soured the appetite of the United Arab Emirates' high-end clientele, but the Gulf financial and tourism hub is striving to win back its crown as a world luxury capital.
Chocopologie, a chocolatier which claims to sell the world's most expensive truffle "La Madeline au Truffe" for 1,000 dirhams ($272) apiece, opened its boutique cafe in Dubai in December and already plans another in Abu Dhabi.
"Luxury retail demand is rising," manager Christel Mock said, as she sat in a dark red velvet armchair adorned with gold ornamentation. "Cash is flowing again, and it's more acceptable to spend money on luxury delicacies."
Dubai, known for opulent hotels and man-made palm-shaped islands, was the second most attractive city in the world for retailers in 2009, just behind London but ahead of Paris and New York, according to a survey by consultancy CB Richard Ellis.
But retailers in Dubai saw sales slump 45 percent that year when Dubai was hard hit by the global financial crisis and its own real estate crash, according to some industry estimates. Retail started a slow path to recovery in 2010.
The global recession saw luxury items drop off the shelves in status-conscious Dubai before staging a comeback led by demand by wealthy Emiratis and returning tourists from Russia, China and India, retailers and analysts said.
Business activity in the UAE private sector hit an 18-month high in January as orders for non-oil goods and services picked up on stronger domestic demand.
"Emiratis love sweets. My clients are mostly the Emirati elite, a lot of sheikhs and sheikhas," said Chocopologie's Mock, with a private lounge where the wealthy and glamorous can sip hot drinks and nibble chocolate delights.
"The VIP salon is for the private get-away so they don't have to be exposed," she said.
Mall of the Emirates, one of Dubai's largest shopping centers, added over 40 luxury brands in September, while property consultancy Colliers International expected a 30 percent gain in mall space between 2010 and 2013 in Dubai.
Since Chocopologie opened on December 12, it has already sold two of its made-to-order $272 hand-whipped truffles, infused with an Ecuadorian single-estate dark chocolate ganache around a rare French Perigord mushroom.
Mock said she had also received numerous inquiries about the pricey delicacy in the run-up to Valentine's Day on February 14.
Some other truffles carry names like Antoinette, a dark chocolate heart dipped in white chocolate and French rose water, and Amanda, a dark chocolate with lemon and verbena flavor.
"I work for an international airline and we get chocolates for free. People here buy lots of things that don't make sense," said passer-by Matt Ege, a former forex trader and now pilot.
GLITZY WATCHES, HIGH-END ART
But it is not just chocolate that is making a comeback. Dubai's Rivoli Group, in which Swatch Group owns a stake, sells timepieces with aquatimer chronographs, Dior mobile phones in a jeweled finish, and calf-skin leather bags. It expects sales growth of 15 to 20 percent in 2011.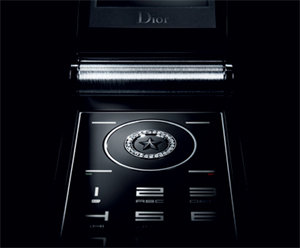 Inside of Dior's phone
Abraham Koshy, Rivoli Group general manager, said he had sold "a few" platinum Breguet Double Tourbillion Classique Grand Complication watches, priced at over $440,000 apiece, in recent months. That was stronger than the same period a year earlier, and the luxury segment was performing above expectations.
"Most customers are from high-end households in the UAE, and visitors from the Far East and mainland China," he told Reuters.
"There is a resurgence in the mechanical segment and watches. People have a preference for precious metals, gold and rose gold."
Analysts said consumer spending has ticked up in the aftermath of the financial crisis and Dubai's debt woes, pulled mainly by returning tourists.
"Emiratis are able to spend more again. The expatriates who have remained here have secured their jobs to a certain extent so they can spend more now," said Mahdi Mattar, head of research and chief economist at Abu Dhabi-based CAPM Investment.
"It's a reduction in the saving rate and a pick-up in spending in the UAE, both locals and expats. But the main factor is the tourists. We have seen a pick-up in arrivals to Dubai's airports and in hotel occupancy rates."
Auction house Sotheby's said it plans to increase its commitment to the region, citing a potential for lucrative high-end art sales with interest from members of prominent families who want to attend auctions closer to home.
"The royal sheikhas take a very keen interest. They play a very important role in the cultural and artistic development especially at the high-end. They are very active on the buying scene," said Roxane Zand, Sotheby's director of the Middle East Department.
Sotheby's had already held two art sales in the Gulf in 2009 and 2010, both in Qatar.
"Sotheby's strategy has been more to operate from our global centers: New York, London or Paris," she said. "But the 2010 sale in Doha was a very successful sale. We were expecting $4 million, but we actually made $5.2 million."
Rival auction house Christie's has already gained a foothold in Dubai.
"Dubai is one of Christie's 10 international sale centers and has been vital for our development in the region," Isabelle de la Bruyere, Christie's Middle East director, said.
"It will be incredibly interesting to see what the Guggenheim and Louvre do in Abu Dhabi," said Guy Vesey, regional director of Bonhams Middle East. "But it might be some time before they are seen as true capitals in the art market."
(Reporting by Martina Fuchs; Editing by Cynthia Johnston and Angus MacSwan)

© Thomson Reuters 2023 All rights reserved.