FTSE flat, Tesco warning leads retailers lower
Britain's FTSE 100 was flat on Thursday morning, with retailers lower amid fears of a supermarket price war after market leader Tesco issued a profit warning following its worst Christmas for decades.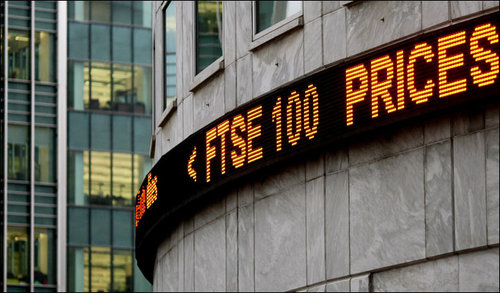 FTSE
The FTSE 100 was up 1.06 points, or 0.02 percent, at 5,671.88 by 0943 GMT, supported by financials and miners.
Tesco shares were down 14 percent to a 32-month low after the world's third-largest retailer said it would invest in price cuts and its online business to win back sales, leading to minimal profit growth in its 2012/13 year compared with a forecast for a 10 percent rise.
Shore Capital cut its rating on Tesco to "hold" from "buy".
Peer Morrison, which reported on Monday, fell 8.2 percent and Marks & Spencer dipped 2.2 percent, as updates showed consumers conserved cash in the face of a bleak economic outlook and UK austerity measures.
Sainsbury, which updated on Wednesday, shed 6.4 percent as Credit Suisse revised its profit forecasts and repeated its "underperform" rating, saying "there is still not enough margin/returns progress for us to view the valuation as attractive".
Tesco traded on a price-earnings ratio of 11, compared with Morrison's 11.7 multiple, Sainsbury on 9.7 and the FTSE 100 at around 10, Thomson Reuters Starmine data showed, based on the market close on Wednesday.
There was bad news too from mid-cap Home Retail, down 3.8 percent, as it said it expected to cut its full-year dividend significantly after seeing another poor sales performance at its Argos stores.
Mothercare and Ocado, however, rallied after their trading updates, up 2.1 percent and 14 percent respectively, albeit after their shares had taken a battering recently.
Alex Wright, manager of Fidelity Investments' UK Smaller Companies Fund, which has 18 million pounds assets under management said he liked the retail sector overall, saying that of nearly all the sectors in the market, it was the one where you can see the biggest differences in performance by stocks.
"Even if you think the retail outlook is bad, there are almost always some winners and losers in the retail space."
© Thomson Reuters 2022 All rights reserved.