G-III sees strong H2 on brand extensions; shares jump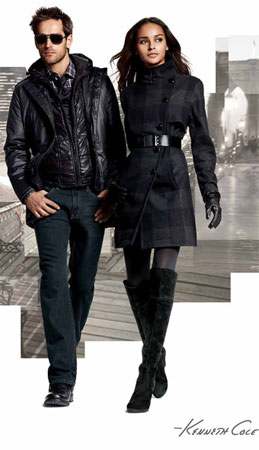 Kenneth Cole for G-III Apparel Group
G-III Apparel Group Ltd (GIII.O) raised its full-year outlook and sees third-quarter same-store sales to rise between the high-single to low-double digits, as its fashion brands attract shoppers and an expansion in the higher-margin accessories and dress business boosts profits.
The apparel manufacturer, which licenses clothes and accessories under the Calvin Klein, Sean John, Kenneth Cole Productions Inc (KCP.N), Cole Haan, GuessInc (GES.N) brands among others, said August sales were strong and that it was seeing an improvement in gross margins.
"We are excited to add licenses for handbags and luggage under the Calvin Klein brand ... we believe the businesses can achieve $200 million in annual sales in the next few years," Chief Executive Morris Goldfarb said on a conference call with analysts.
G-III is expecting a better fall and holiday dress business than last year, and looking ahead to a strong second half, he added.
The company, which continues to look at possible acquisition opportunities, mainly in the accessories space, raised its full-year 2011 earnings outlook to $2.60-$2.70 a share from its previous view of $2.20-$2.30 a share.
The second quarter ended July 31 saw higher gross margins of 32.2 percent, from 30 percent a year ago.
The New-York City based company reported a profit of 15 cents a share, while analysts were expecting a loss of 2 cents a share, according to Thomson Reuters I/B/E/S.
Sales rose 39 percent to $189 million, topping estimates, helped by strong sales of women's dresses, sportswear and suits at wholesale.
Shares of the company, which have gained 26 percent since touching a 52-week high in May, were trading up 18 percent at $28.60 in midday trade Wednesday on Nasdaq. They touched a high of $29.03 earlier in the day.
(Reporting by NR Sethuraman in Bangalore; Editing by Unnikrishnan Nair)
© Thomson Reuters 2023 All rights reserved.