Gabrielle Greiss leaves Rykiel
The collaboration has been a short one; named director of design for ladies' off-the-peg fashion at Sonia Rykiel at the end of 2007, Gabrielle Greiss is leaving the company. A mutual decision, the designer will be moving on after the catwalk for winter 2009.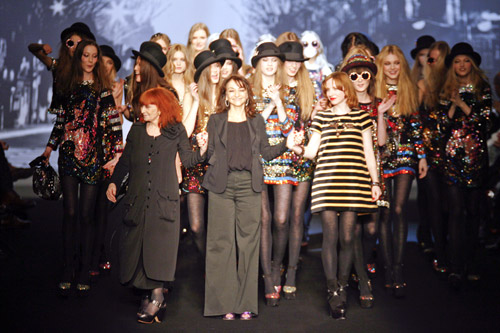 Gabrielle Greiss beside Sonia and Nathalie Rykiel during the Autumn/Winter 2008 catwalk show - Photo : Pixel Formula
An amicable split, Gabrielle Greiss is leaving for new challenges and to expand her horizons.
Having worked with the studio Sonia Rykiel since 2002, the young lady became the right hand woman of the queen of knitwear before being appointed director of design for the off-the-peg section of the brand.
A graduate of Saint Martins School, Gabrielle Greiss had previously learnt her trade with Kostas Murkudis, Alber Elbaz for Lanvin, Martine Sitbon and Anna Molinari.
From now on it will be a design studio, with the artistic direction of Nathalie Rykiel, which will be creating collections for the Sonia Rykiel label.
By Jonathan Fulwell (Sourec: Céline Vautard)
Copyright © 2023 FashionNetwork.com All rights reserved.