General Growth filing clouds future for stores
By Martinne Geller - Analysis
NEW YORK (Reuters) - The bankruptcy of the second-largest U.S. mall owner, General Growth Properties Inc, will have little immediate effect on its retail tenants, but could hurt them down the road.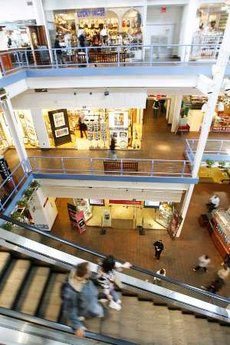 Customers at the South Street Seaport in New York, Photo by: REUTERS/Lucas Jackson
At the very least, the biggest real estate failure in U.S. history casts a cloud over specialty retailers, many of which already face declining sales and limited credit and are trying to stave off their own demises.
"Having a landlord in Chapter 11 has some very foreseeable negative consequences as far as maintaining the property and the landlord living up to its commitments, and that's going to affect the retailer right on the sales floor," said Anthony Sabino, professor of law and business at New York's St. John's University. "And people aren't going to malls as it is."
Following Thursday's bankruptcy filing by General Growth and 158 of its more than 200 U.S. malls, retail tenants are obligated to uphold their leases, though the mall owner now has the ability to reject whichever leases its overseers view as unfavorable.
As consumers cut back on spending, scores of retailers have trimmed staff, closed unprofitable stores and sought to renegotiate their leases for better terms. Sabino said any outstanding renegotiations will likely get caught up in the tangled legal web of bankruptcy court.
That being said, retailers could find themselves with more leverage as they seek to renew or renegotiate their leases, especially in General Growth's secondary and tertiary malls.
"The last thing a company in General Growth's position wants is to have more stores go dark at this point," said Antony Karabus, chief executive of Karabus Management, a retail advisory firm and subsidiary of PricewaterhouseCoopers (PwC) Canada. "It's better to have a tenant at a lower rate than to not have a tenant at all."
A BRIGHT SIDE
For now, it is "business as usual" for Macy's Inc and JC Penney Co Inc, which both operate dozens of department stores in General Growth malls.
"General Growth has been a good mall operator for us," a J.C. Penney spokeswoman said. "As long as the malls continue to be operated properly, we do not foresee any issues."
Of the 111 J.C. Penney stores in General Growth malls, about 90 are in malls affected by the bankruptcy filing.
A Macy's spokesman said the General Growth bankruptcy has "very little effect" on it, since it owns many of its store properties and has long-term leases for many others.
Among General Growth's trade creditors are LVMH Moet Hennessy Louis Vuitton SA's Sephora chain and Borders Group Inc. Bankruptcy experts said that is likely due to costs the retailers took on to build their stores that General Growth did not repay.
Now that General Growth is in bankruptcy, any build-out costs will be paid out of debtor-in-possession financing, so new tenants may be encouraged to move into General Growth malls since they may feel assured of getting reimbursed, said Mark Freiman, an independent contractor with retail consultancy Focus Management Group.
"This may give (General Growth) the ability to do deals they couldn't do before" bankruptcy, Freiman said.
Retail real estate broker Faith Hope Consolo, chairman of Prudential Douglas Elliman's retail leasing and sales division, said she has several deals pending with General Growth that she expects to continue moving toward closing.
"My retailers feel confident that General Growth will survive this, and they're going forward with the deals," Consolo said. "When we entered into negotiations, we already knew they had their issues."
(Reporting by Martinne Geller; Additional reporting by Aarthi Sivaraman, Nicole Maestri, Tom Hals and Phil Wahba, editing by Matthew Lewis)
© Thomson Reuters 2023 All rights reserved.