German retail sales outlook hopeful despite Dec fall
BERLIN, Jan 31 (Reuters) - German retail sales posted a surprise fall in December, their fourth decline in the last five months, but economists remained hopeful of robust rates of consumption in 2011 given low unemployment and rising wages.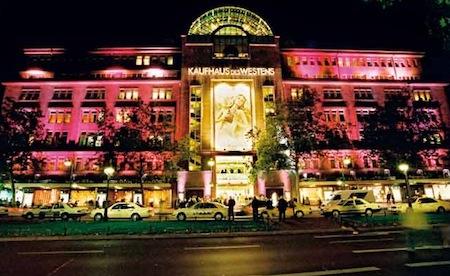 KaDeWe is one of Berlin's major shopping centres
The Federal Statistics Office said on Monday retail sales declined by 0.3 percent month-on-month compared to a consensus forecast for a robust 2.0 percent rise and following a sharp 1.9 percent fall in November.
On an annual basis, sales declined by 1.3 percent against expectations for a 1.1 percent increase. For the year as a whole, however, retail sales pushed up 1.2 percent, their strongest annual gain since 2005.
"With only one single month of growth, German retail sales have been on a downward trend since August," said Carsten Brzeski, an economist at ING.
"Nevertheless, despite recent disappointments, private consumption could become the growth surprise of 2011."
German retail sales figures, based on data from seven states, are notoriously volatile and often revised in subsequent months. Despite unusually cold winter weather in December, Germany's HDE retailers association had described the Christmas holiday season as "a big leap forward" in terms of sales.
Monday's data was therefore surprisingly weak, especially given the strength of recent consumer sentiment data.
A report from research group GfK last week showed German households were more willing to splash out money on expensive big-ticket items like flat screen TVs than at any time since December 2006.
Income expectations, however, have dipped somewhat due to the sharp surge in costs for food and energy, posing perhaps one of the biggest risks to consumption this year.
Still, many economists are counting on German consumers to emerge from a decade-long hibernation and provide a boost to growth this year now that a record number are in the workforce and likely set to enjoy pay increases that could make up for inflation-related losses in purchasing power.
Germany's unemployment rate stands at just 7.5 percent and wages are expected to increase this year. German union IG Metall, for example, has demanded a salary increase of 6 percent for workers at carmaker Volkswagen (VOWG.DE) and last week rejected an offer for a raise of 2.9 percent.
"I would not blow these figures out of proportion," Ulrike Kastens, an economist at Sal. Oppenheim, said of the December retail sales numbers.
"At a first glance they are disappointing, because they show a fall for both November and December. The sentiment indicators and the company surveys however strike a different tone," she added, saying the positive consumption trend remained intact.
According to data provided by the OECD, total household spending in the ten years through 2009 accounted on average for 57 percent of economic activity in Germany.
This is barely one percentage point higher than the figure for deflation-prone Japan, and compares with just over 68 percent in the United States during the same time period.
(Additional reporting by Sarah Marsh and Erik Kirschbaum)
(Writing by Noah Barkin; Editing by John Stonestreet)
© Thomson Reuters 2023 All rights reserved.