Germans to splash out on Xmas gifts despite crisis
FRANKFURT, Nov 3 (Reuters) - German shoppers, hurt less by the economic crisis than expected, are planning to spend more on on presents this holiday season, a survey said.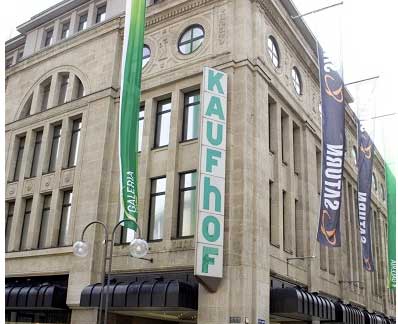 Kaufhof
Accountancy firm Ernst & Young [ERNY.UL] forecast Germans would spend on average 226 euros ($334) on Christmas presents this year, up 5 euros from 2008. This compares with a 10 percent drop last year.
Books, clothes and vouchers topped the list for gifts, the survey said on Tuesday 3 November.
Spending would climb mainly because unemployment in Europe's largest economy had not risen as much as was feared and growth was holding up.
"The crisis has not fully reached the consumer yet," said Thomas Harms, partner at Ernst & Young. "There is a certain sense of relief. People get the impression that the worst could be over."
German unemployment fell unexpectedly in October, its fourth straight monthly decline.
Peter Schommer, also a partner at Ernst & Young, said the recovery was still fragile and consumer sentiment could turn again if, for example, Germany's new government decided to raise taxes. (Reporting by Eva Kuehnen; Editing by David Cowell) ($1 = 0.6769 euro)
© Thomson Reuters 2023 All rights reserved.