Gildan to slow Honduras ops, unrelated to coup
TORONTO, June 29 (Reuters) - Gildan Activewear (GIL.TO) said on Monday 29 June it plans to suspend operations for two weeks at some of its plants in Honduras to control inventory, adding the political crisis in the country had no bearing on the decision.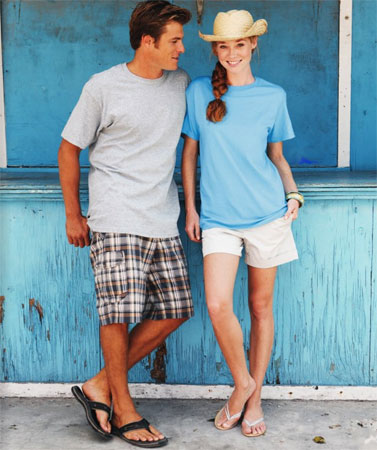 Gildan (www.gildan.com)
The Canadian T-shirt maker said the move at its textile and activewear sewing facilities was scheduled before the military coup on the weekend that ousted Honduran President Manuel Zelaya.
Gildan, which sells blank T-shirts as well as socks and underwear, said earlier this year that it might cut back production to better balance its inventory levels as it copes with slumping demand for its products.
The company's shares were down 8.6 percent at C$17.02 on the Toronto Stock Exchange on Monday (29 June) afternoon.
Brian Yarbrough, an analyst at Edward Jones in St. Louis, Missouri, said the downtime should have minimal impact on its results.
"You are looking at a very small hit to earnings," he said. "They are trying to manage inventories more in line and from my standpoint that is a positive. I would rather see them do that than continue to grow inventories."
Last month, Gildan said it earned $7.1 million, or 6 cents a share, in its second quarter, down from $42.1 million, or 35 cents a share, in the year-before quarter.
($1=$1.16 Canadian) (Reporting by Scott Anderson; editing by Peter Galloway)
© Thomson Reuters 2023 All rights reserved.