Gold firms as dollar slips versus currency basket
LONDON | Wed Oct 20, 2010 -(Reuters) - Gold firmed on Wednesday as dollar weakness helped the metal recover from the previous session's 2.5 percent slide, with the softer U.S. currency boosting interest in the metal as a safe store of value.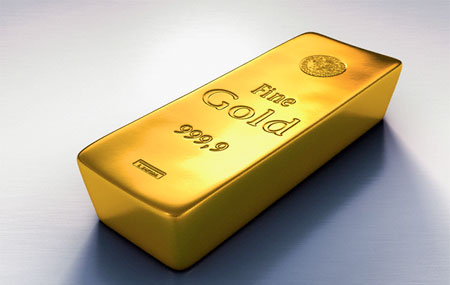 Photo : Corbis
Spot gold was bid at $1,341.55 an ounce at 1352 GMT, against $1,336.00 late in New York on Tuesday. U.S. gold futures for December delivery rose $5.70 an ounce to $1,341.70.
The precious metal recorded its biggest one-day loss since July 1 on Tuesday after China raised its benchmark interest rates by 25 basis points, sparking a dollar recovery.
It met with good buying in early European trade as market watchers looked ahead to a Federal Reserve policy meeting on Nov. 2, at which the bank is expected to discuss the prospect of extending its quantitative easing programme.
But the metal remains fragile after a hefty rally since late July that took it to record highs at $1,387.10.
"It might not be the end of the correction," said Citigroup analyst David Thurtell. "The dollar had fallen a long way and... the risk for precious metals is from a rebound in the dollar."
"The fall has given people a bit of food for thought. People have viewed this as a bit of a one-way ticket and last night and yesterday's move shows that it is not."
The dollar index, which measures the U.S. unit's performance against a basket of currencies, was down 0.6 percent in mid-afternoon trade as appetite for higher-yielding currencies stabilised after China's surprise interest rate hike.
Gold typically moves in a close inverse relationship with the dollar, with strength in the U.S. unit curbing gold's appeal as an alternative asset and making dollar-priced commodities more expensive for holders of other currencies.
Tuesday also saw a further decline in holdings of the world's largest gold-backed exchange-traded fund, New York's SPDR Gold Trust , which fell by nearly 1 tonne, its tenth daily outflow in 16 sessions.
PHYSICAL DEMAND EXPECTED

Gold's descent is likely to meet physical buying from price-sensitive bullion markets like India, the world's biggest consumer of gold, analysts said.
"It is in the trading sessions subsequent to an investor stampede for the exit that physical demand becomes very important," said Swiss bank UBS in a note.
"We would look for it to accelerate today. Early indicators are quite positive with physical demand from Asia ex-India initially in the low $1,330s helping to put a floor under gold around that level."
Silver was at $23.80 an ounce against $23.32, having also slipped by the most since July 1 on Tuesday with a 4.1 percent fall. It is still one of the biggest climbers of the precious metals so far this year, up 41 percent.
Platinum was at $1,672 an ounce against $1,667.50, while palladium was at $582.49 against $573.08.
The white metals also fell on Tuesday in gold's wake, but analysts say their firm underlying fundamentals are expected to lend support.
Demand for the autocatalyst metals is expected to improve this year as the car industry continues its recovery, while mine supply in South Africa is expected to be constrained.
"Demand (for platinum) from auto catalyst producers has been rebounding this year," said Bank of America-Merrill Lynch in a report. "We forecast a deficit for 2010 and 2011."
By Jan Harvey (Editing by James Jukwey)
© Thomson Reuters 2022 All rights reserved.