Gold gains on firm euro but jewelers retreat
(Reuters) - Gold gained on Tuesday in a thin market driven by a firm euro and a technical rebound as prices briefly hit the 100-day moving average, while jewelry makers stayed on the sidelines after recent purchases.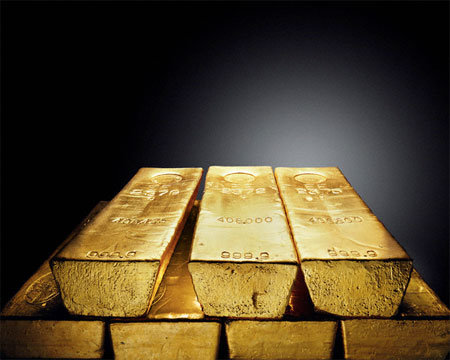 Photo: Corbis
Investors are turning their attention to a series of U.S. data that may set the tone for prices, which have dipped more than 6 percent after surging to a record $1,264.90 in early June. Silver also firmed, while strong equities underpinned platinum.
Spot gold added $1.05 to $1,184.80 an ounce by 11:36 a.m. ET as dealers shrugged off a slight decline in ETF holdings. Gold had fallen nearly $8 on Monday after strong U.S. home sales data dented its safe haven appeal.
"I think definitely what we see is a bit of indecision now. I think we do need new impetus for people to go into gold and for people to be concerned about the economy again," said Ong Yi Ling, an investment analyst at Phillip Futures in Singapore.
Still, "I don't foresee it dropping below $1,175," said Ong, referring to a two-month low hit last week.
U.S. gold futures for August delivery rose $1.1 to $1,184.2 an ounce ahead of the release of data on U.S. consumer confidence for July, ICSC chain stores and the S&P/Case-Shiller 20-city home price index.
The Nikkei inched up on Tuesday, drawing support from robust earnings at home, a pickup in U.S. new home sales and gains in U.S. stocks following an upbeat outlook from FedEx. .T .N
SPDR Gold Trust (GLD.P), the world's largest gold-backed exchange-traded fund, said its holdings fell to 1,301.742 metric tons by July 26 from 1,302.046 on July 22. The holdings hit a record at 1,320.436 metric tons on June 29.
"Honestly, I can't find any buying whatsoever. Everybody is on the sidelines because the price is not high enough to sell, and not low enough to buy. It's neither here nor there," said a physical dealer in Singapore.
"I saw some buying from India yesterday but there's nothing much after that," he said.
Gold demand in top consumer India is set to pick up ahead of the busy festival season, starting with Raksha Bandhan on August 24, and extending till Dhanteras in November, the single biggest gold buying day.
The euro held near a two-month peak against the dollar but there was caution ahead of earning reports by some European banks, including Deutsche Bank (DBKGn.DE), which has not revealed its exposure to Southern European countries in the wake of the publication of stress test results.
(Editing by Manash Goswami)
© Thomson Reuters 2023 All rights reserved.