Gold hits 4-week high on cloudy econ outlook
SINGAPORE, Aug 13 (Reuters) - Gold touched a four-week high on Friday, extending gains from the previous day as investors bought the precious metal and shied away from riskier assets on concern about the health of the global economy.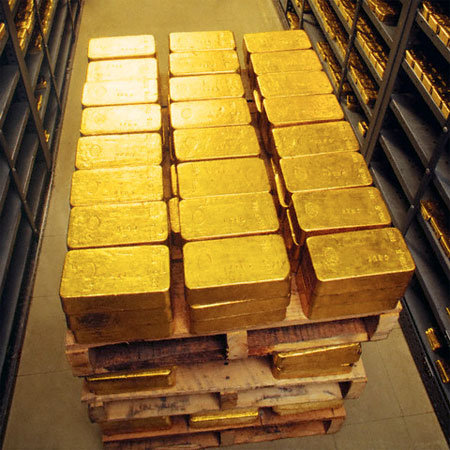 Palette of gold bricks. Photo : Corbis
Fresh U.S. data that would give further pointers to the health of the world's largest economy could push gold even higher, after unemployment data on Thursday spurred safe-haven demand for gold and the dollar.
"We may see gold edging further up on follow-on strength after yesterday's gains," said Ong Yi Ling, investment analyst at Phillip Futures in Singapore. "If U.S. retail sales come in weaker than expected then people will be getting worried about the U.S. economy."
U.S. consumer confidence and consumer prices are also due out later on Friday. Spot gold XAU= stood at $1215.10 an ounce by 0446 GMT, up $3.90 on the day, after earlier touching $1215.85 an ounce, its highest since July 15.
The world's largest gold-backed exchange-traded fund, SPDR Gold Trust (GLD.P), said on Friday its holdings rose for the second consecutive day. It held 1,286.699 tons by Aug. 12, up from 1,285.787 tons on Aug. 11.
Investor interest and the higher price had depressed physical demand, a Hong Kong-based trader said.
"With the SPDR increasing and gold attractive as a safe haven, physical demand has diminished," he said. Sellers would be holding in the hope of further gains, he added.
Buyers came into the market when gold hit a near three-month low in July but in the rally since, demand has steadily fallen, he said.
Top gold consumer India has stayed on the sidelines as the price has risen, although buying was expected to pick up during the festive season that begins on Aug. 24 and extends into November.
Gold typically gains when the dollar falls, but on Thursday both rose. That could be a sign that investors are looking at gold as an inflation hedge amid a run up in the prices of some other commodities, said Jonathan Barratt, managing director of Commodity Broking Services in Sydney.
"Given what is happening to foods and cereals, they perhaps perceive there could be an inflationary spike," Barratt said.
Wheat prices are up nearly 70 percent from June lows and hit a two-year high last week amid drought in Russia, crop troubles in other Black Sea regions and flooding in Pakistan.
Silver rose 9 cents to $18.11 an ounce, catching up with the recent rise in gold, analysts said.
Asian equities also edged higher on Friday but looked set to end with heavy losses for the week. The MSCI index for Asian stocks outside Japan rose 0.25 percent. The index was still down on the week by 3.2 percent, its worse performance in five weeks.
© Thomson Reuters 2022 All rights reserved.