Gold price extends record run higher
© 2009 AFP - Gold prices broke through 1,200 dollars for the first time ever this week, cementing the precious metal's rapid rise over the past year as nervous traders sought safe-haven investments.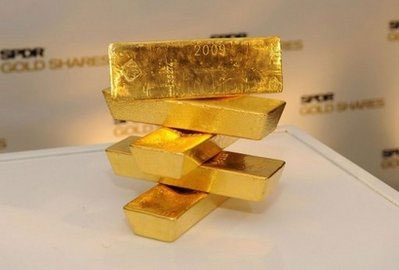 Photo: AFP/Getty Images/File/Larry Busacca
There were meanwhile multi-month highs for silver, platinum and palladium, while cocoa futures struck the highest level for 24 years in London.
PRECIOUS METALS: Gold on Thursday 3 December struck a record high price of 1,226.56 dollars on the London Bullion Market after breaking through the 1,200-dollar barrier for the first time on Tuesday 1 December.
Gold has smashed record after record over recent days and weeks on the back of inflationary fears and increasing moves by central banks to diversify assets away from the dollar, which has weakened against the European single currency.
A falling greenback makes dollar-denominated gold cheaper for buyers holding stronger currencies, pushing up demand for the metal and eventually its price.
In European foreign exchange trading on Wednesday 2 December, the euro rose to above 1.51 dollars.
After surging above 1,200 dollars, the market is staring "into the unknown," said VTB Capital commodities analyst Andrey Kryuchenkov.
"Resistance could yet prove to be very strong and we are looking for a sustained push above it to signal gains to 1,230/50 dollars.
"There is little doubt that the market remains bullish and even though we expect trading to subside later this month, the downside is still limited. At the moment we favour little profit-taking," he added.
The price of gold has soared by more than 55 percent in value over the past 12 months.
The yellow metal, whose two main drivers are jewellery and investment buyers, has won favour in the uncertain economic climate which has been fuelled in recent days by Dubai's debt crisis. Gold is traditionally viewed as a safe-haven investment.
"It is a store of value while investors have serious doubts about the global financial system," said CMC Markets analyst Michael Hewson.
"It is something that is not going to lose its value like a currency."
Gold prices have won support from central bank purchases of the metal.
The International Monetary Fund (IMF) last week announced it had sold 10 tonnes of gold to Sri Lanka's central bank for 375 million dollars as part of a restructuring of its financial resources.
The record run for gold comes also after a recent newspaper report that India was mulling the purchase of more IMF gold reserves.
Canadian mining giant Barrick Gold meanwhile on Tuesday 1 December announced it had eliminated all of its hedges on the world's largest gold production and reserves, hoping to profit from rising gold prices.
Gold's jump meanwhile dragged silver to a 16-month high of 19.46 dollars an ounce. Platinum achieved a 15-month peak of 1,510.30 dollars and platinum hit 392.25 dollars -- a level not seen since July 2008.
By late Friday 4 December on the London Bullion Market, gold gained to 1,190.25 dollars an ounce from 1,166.50 dollars a week earlier.
Silver grew to 18.83 dollars an ounce from 17.98 dollars.
On the London Platinum and Palladium Market, platinum climbed to 1,472 dollars an ounce at the late fixing on Friday 4 December from 1,426 dollars the previous week.
Palladium increased to 378 dollars an ounce from 358 dollars.
OIL: Oil prices rose thanks to a strong finish to the week following news of shrinking unemployment in the United States, the world's biggest energy-consuming nation.
The troubled US labor market saw a dramatic improvement in November as the number of jobs lost narrowed to 11,000 and the unemployment rate dipped to 10.0 percent, official data showed on Friday 4 December.
The Labor Department jobs figures showed a massive improvement from October and earlier months and suggested the US economy was nearing job growth needed to sustain a fragile recovery from recession
Oil prices had fallen on Friday 4 December ahead of the jobs data owing to concerns about poor energy demand, traders said.
This week's US Department of Energy (DoE) report of a rise in US crude stockpiles has renewed fears over weak American demand for oil.
"Caution is expected to remain on the back of unexpected high levels of inventories," analysts from Singapore's United Overseas Bank said in a report.
The DoE in its weekly report Wednesday 2 December said crude reserves rose by 2.1 million barrels in the week ending November 27, more than double market expectations.
It said US gasoline reserves had soared by four million barrels last week, much higher than the 700,000-barrel rise tipped by analysts.
However, US distillate stocks, which include heating fuel, dropped by 1.2 million barrels.
Oil traders were also looking ahead to an upcoming OPEC meeting that will decide on producers' crude output levels.
Saudi Oil Minister Ali al-Naimi on Friday 4 December said that OPEC should not raise its production quota at a meeting later this month as the current oil price is "close to the target."
"Why should we raise output?" Naimi, whose country is the de facto head of the cartel, told reporters in Cairo.
"We still have time (for the meeting). But right now, the price is ok, between 70 and 80 (dollars). It's close to the target that we set at 75 dollars a barrel," Naimi said.
Naimi was in the Egyptian capital to attend a ministerial conference of the Organization of Arab Petroleum Exporting Countries (OAPEC) on Saturday 5 December.
Several OPEC members have already said they want to keep production unchanged at their December 22 meeting in Luanda, Angola because they feel current crude prices are satisfactory.
By Friday 4 December on the New York Mercantile Exchange (NYMEX), light sweet crude for delivery in January jumped to 77.61 dollars compared with 74.90 dollars a week earlier.
On London's InterContinental Exchange (ICE), Brent North Sea crude for January delivery climbed to 79.48 dollars from 76.10 dollars a week earlier.
BASE METALS: Copper prices struck 14-month highs owing to tight supplies of the metal and has now rocketed by more than 130 percent since the start of 2009.
On Wednesday 2 December, copper struck 7,170 dollars per tonne -- the highest level since late September 2008 -- as traders reacted to the weak dollar, positive economic data and easing concerns over Dubai's debt crisis.
Michael Chender, boss of the US-based Metals Economic Group consultancy, said Tuesday 1 December that scarcity of copper would spark even higher prices should the world economy escape a quick return to recession.
He added that prices would also charge higher if Asian powerhouse China continued to expand at a rapid rate.
"If we do not see a double-dip recession, if Chinese growth continues apace, then it is likely that we will see scarcity of copper supplies in the next few years," Chender said at Mines & Money 2009, an industry gathering in London.
Meanwhile, Eric Finlayson, Head of Exploration at Anglo-Australian mining giant Rio Tinto, expressed confidence that demand for raw materials would continue to accelerate over the next decade.
"Commodities demand has doubled every 20 years and this trend is set to continue," Finlayson told delegates.
By Friday 4 December on the London Metal Exchange, copper for delivery in three months surged to 7,124.75 dollars a tonne from 6,787 dollars a week earlier.
Three-month aluminium jumped to 2,156 dollars a tonne from 1,990 dollars.
Three-month lead rose to 2,380.25 dollars a tonne from 2,308 dollars.
Three-month tin climbed to 15,300 dollars a tonne from 14,800 dollars.
Three-month zinc advanced to 2,397 dollars a tonne from 2,220.25 dollars.
Three-month nickel grew to 16,350 dollars a tonne from 16,150 dollars.
COCOA: Cocoa prices reached the highest point for 24 years.
They struck 2,232 pounds a tonne in London on Thursday 3 December -- a level last seen in 1985.
"Cocoa prices have strengthened again... on expectations of another global supply shortfall," said Macquarie Bank analyst Kona Haque.
By Friday 4 December on LIFFE, London's futures exchange, the price of cocoa for delivery in March grew to 2,184 pounds a tonne from 2,159 pounds a week earlier.
On the New York Board of Trade (NYBOT), the March cocoa contract climbed to 3,367 dollars a tonne from 3,256 dollars.
SUGAR: Sugar prices rose in London and New York.
By Friday 4 December on LIFFE, the price of a tonne of white sugar for delivery in March climbed to 613.40 pounds from 608.20 pounds a week earlier.
On NYBOT, the price of unrefined sugar for March rose to 22.40 US cents a pound from 22.28 cents.
GRAINS AND SOYA: Grains and soya prices fell.
By Friday 4 December on the Chicago Board of Trade, maize for delivery in March dropped to 3.925 dollars a bushel from 4.135 dollars a week earlier.
January-dated soyabean meal -- used in animal feed -- slipped to 10.365 dollars from 10.53 dollars.
Wheat for March decreased to 5.64 dollars a bushel from 5.697 dollars.
COFFEE: Coffee prices rose for a second week.
By Friday 4 December on LIFFE, Robusta for delivery in March advanced to 1,356 dollars a tonne from 1,325 dollars for the expired January contract a week earlier.
On the NYBOT, Arabica for March increased to 140.50 US cents a pound from 137.25 cents.
burs-bcp/nhLONDON, Dec 4, 2009 (AFP)
Copyright © 2023 AFP. All rights reserved. All information displayed in this section (dispatches, photographs, logos) are protected by intellectual property rights owned by Agence France-Presse. As a consequence you may not copy, reproduce, modify, transmit, publish, display or in any way commercially exploit any of the contents of this section without the prior written consent of Agence France-Presses.