Gold, silver becalmed as U.S. inflation data looms
May 13 - Gold surrendered early gains to trade nearly flat on Friday as the dollar perked up and expectations mounted that U.S. inflationary pressures eased in April.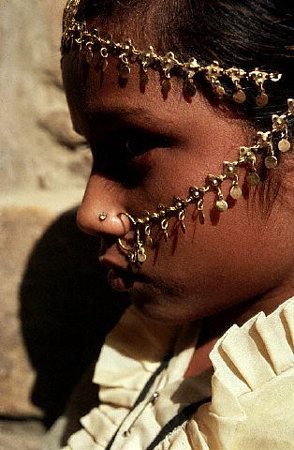 A Rajasthani girl wears a nath, nose ring, and gold jewelry in Jaisalmer, Rajasthan, India
Silver was also stationary after bouncing off a sharp fall overnight that shaved nearly 3 percent off the price at one point.
Headline consumer price index data out later on Friday is expected to show a more subdued rise of 0.4 percent versus 0.5 percent in March, according to a Reuters poll, reducing gold's appeal among investors seeking an inflation hedge.
"Any signs that inflation was easing will weigh on gold today," a metals trader in Sydney said.
Other signs have emerged to suggest gold and sliver were losing more shine with investors.
Holdings of the largest gold-backed exchange-traded-fund (ETF), New York's SPDR Gold Trust, dipped 0.66 percent from Wednesday to Thursday, while the largest silver-backed ETF, New York's iShares Silver Trust, fell 0.23 percent for the same period.
ETF Securities silver funds (ex-U.S.) also fell 5.55 percent on Thursday from Tuesday.
Gold was showing a similar trading pattern to that of base metals, with London Metal Exchange copper futures turning up before the data is released.
"Gold lost some ground too as the dollar picked up steam but still managed to stay positive," the trader said.
The U.S. dollar was now on track to post a second week of gains, according to foreign exchange dealers. The dollar index, which measures the dollar's value against a basket of currencies, edged 0.09 percent higher to 75.311. The index had hit a three-week high of 75.645 on Thursday.
Gold so far this week has traded in a range of nearly $50, touching a low of $1,478.80 on Monday and a peak of $1,526.30 on Wednesday.
By 0502 GMT (12:02 p.m. EST), spot gold was fetching $1,503.55 an ounce versus the overnight closing bid of $1,502.35, according to Reuters data. U.S. gold futures were down $3 to $1,503.80 an ounce.
Spot silver shed 42 cents to $34.26 an ounce. COMEX silver was down 1.3 percent to $34.36 an ounce.
Comments by European Central Bank Executive Board member Gertrude Tumpel-Gugerell that Greece would get its financial woes under control with the help of other euro zone members further tarnished gold's safe harbor appeal.
Technical analysis points to price support for silver at between $31.95 and $32.35 an ounce, potentially corralling silver trades between $32 and $39 an ounce.
If support is clearly broken, it opens a window for a subsequent move down in silver to $26.51 an ounce.
(Additional reporting by Krishna Kumar in Sydney; Editing by Clarence Fernandez)
© Thomson Reuters 2022 All rights reserved.