Golden toilet leaves Hong Kong jeweller flush with cash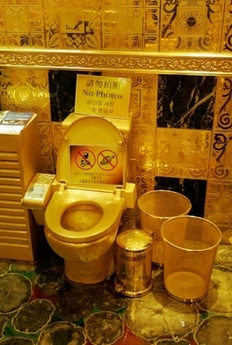 The Golden Toilet - Photo : Mike Clarke/AFP
HONG KONG, March 6, 2008 (AFP) - Hong Kong's famed solid gold toilet is, well, a fixture on the city's tourist itinerary. But with gold prices touching record highs, part of the site could soon be headed down the pan.
Hang Fung jewellers said it will melt down one ton of the gold in its 24-carat lavatory if the price hits 1,000 dollars an ounce, and use the money to help expand its stores on the Chinese mainland.
The company, which draws Chinese tourists by the busload to its unique Hall of Gold, promises that the one-of-a-kind attraction won't be de-throned -- but while the toilet stays, a ton of ornaments around it will come to an end.
Chief financial officer Frank Wu said the group, which already has 160 outlets on the mainland, was looking to increase that number to 1,000 to take advantage of China's booming economy -- and its thirst for all things gold.
"GDP is growing rapidly and many people have now bought what they need, so they are shopping for luxuries," Wu told AFP, adding that jewellery sales rose 40 percent in China last year.
The toilet is part of an extravagant display that includes a golden palace and statues of Chinese goddesses, originally created to lure shoppers into the company's showrooms.
But with the precious metal soaring in value, the company saw an opportunity to make a hefty return on its investment.
In January, Hang Fung melted down one ton of gold from its display and sold it at about 855 dollars an ounce, nearly double the price it originally paid.
Even though prices are now around 990 dollars, however, jewellers and retailers say there is an almost unquenchable appetite for gold jewellery in China no matter what the cost.
"In Europe and America, people are hesitating to buy. Falling incomes and job insecurity are factors they have to consider," Albert Cheng of the World Gold Council said on the sidelines of a jewellery fair in Hong Kong this week.
"There is no doubt the all-time high gold price will affect the jewellery industry," he said. "(But) Chinese people have accumulated increasing wealth in recent years and gold is still something they want to spend on."
Hang Fung says it is looking to keep costs down by using less gold in its jewellery without sacrificing a luxurious look.
"We have been asking our designers to see how we can create the same look for the same price. They are creating styles that are more lightweight, use less material, but still look big," said chief executive Kathy Ng.
Dealers at the Hong Kong fair noted an absence of solid gold jewellery compared to previous years, and some said they were also trying to reduce their use of the precious metal.
Karen Lee, a Hong Kong-based jewellery designer whose pieces are sold across Asia and in the United States and Britain, said she had changed some of her designs to keep costs down.
"It's quite difficult for the consumer to understand that the gold price is increasing. As a designer you have to strike a balance between design and cost so it will still fit into their budget," she said.
"I had a lot of designs that were quite masculine -- big, with a lot of texture on the gold. Now I am having to put other materials on top so I can still get that textured surface, but without using as much gold," she said.
Lee said she had also begun to replace white gold with palladium, which is similar to platinum but cheaper.
"It looks exactly the same and it's still a precious metal. It's actually rarer than gold, but platinum is more expensive because it's better known," Lee said.
But for her Chinese clients, she said, gold is still the king.
"UK customers focus on design, in Hong Kong it's the overall piece," Lee said. "But in China, they just love gold. Price really doesn't seem to be a factor."
by Claire Cozens
Copyright © 2023 AFP. All rights reserved. All information displayed in this section (dispatches, photographs, logos) are protected by intellectual property rights owned by Agence France-Presse. As a consequence you may not copy, reproduce, modify, transmit, publish, display or in any way commercially exploit any of the contents of this section without the prior written consent of Agence France-Presses.