Groupon expands US presence
Groupon, a shopping website that offers a daily deal on the best local goods, services and cultural events in more than 300 markets around the world, has just launched in Topeka and Lawrence (Kansas, USA).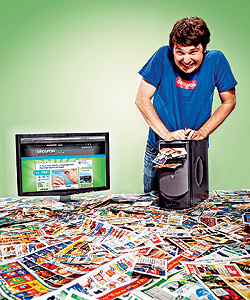 Groupon's founder Andrew Mason
"Home to the state capital and Kansas University, the Topeka-Lawrence market is an excellent match for the Groupon model," said Rob Solomon, president and chief operating officer of Groupon. "We look forward to bringing residents and students unbeatable deals from the best local businesses, while creating new revenue streams for area merchants."
Using the principles of collective buying, Groupon negotiates unprecedented discounts with popular businesses. Groupon subscribers get free daily emails alerting them to the deals. The deals are activated only when a minimum number of people agree to buy, encouraging subscribers to share the promotion with family and friends. This innovative approach to e-commerce has brought millions of dollars in new revenue to local businesses while saving more than $860 million for subscribers across North America.
During its first week in the Topeka-Lawrence market, Groupon's featured deals included a manicure-pedicure package and gourmet cupcakes. Upcoming deals include a tanning salon, a photography session and a local pizzeria. The Topeka-Lawrence market joins Kansas City and Wichita as Kansas' third Groupon market.
Copyright © 2023 FashionNetwork.com All rights reserved.