Gruppo Coin sales up, Upim weighs on profit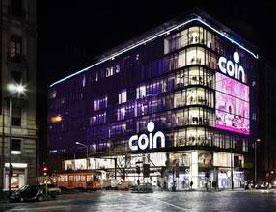 www.GruppoCoin.com
MILAN, June 11 (Reuters) - Italian department store chain Gruppo Coin (GCN.MI) expects sales to grow in June in line with targets, as it carries on converting smaller Upim stores.
Gruppo Coin, made up of Coin and Oviesse stores, bought smaller retailer Upim in an all-share deal in January, becoming the biggest clothing retailer in Italy.
The retailer said on Friday 11 June that sales were inching up in June after bad weather in May deterred people from shopping.
"Since the first days of June this trend changed and we are now in line with our expectations", Coin said.
Coin said sales increased 42 percent in its financial first quarter to the end of April.
However, the lower profitability of Upim stores weighed on pretax profit and earnings before interest, tax, depreciation and amortisation (EBITDA).
The group converted 34 Upim stores into Coin and Oviesse stores in the first quarter, still a small portion of the 149 stores it bought in January.
"The positive effects deriving from the conversion ... are still only visible a tiny bit in the results", the group said.
Pretax profit was 500,000 euros. Excluding lower profitability and reorganisation costs of Upim stores it would have been 4.4 million euros, the group said.
The group, which sells clothes, home decorations, accessories and beauty products, has said it expects annual turnover to rise more than 60 percent in the next three years after buying Upim.
Upim had sales of 430 million euros in 2009 and debt of about 150 million euros.
At 1428 GMT Gruppo Coin shares were up 2 percent at 5.37 euros. The Stoxx Europe 600 retail index .SXRP was down 1 pct.
(Reporting by Antonella Ciancio, Editing by Erica Billingham)
© Thomson Reuters 2023 All rights reserved.