Guardian of vintage costume jewellery unveils treasure-trove
PARIS, Sept 25, 2008 (AFP) - Surrounded by display cases crammed with colourful baubles, Olwen Forest admits "It's a passion."
Over the past three decades she has amassed an unparalleled collection of vintage costume jewellery, specialising in the heyday of Hollywood glamour, including many unique pieces worn by stars such as Elizabeth Taylor, Olivia de Havilland, and Carole Lombard.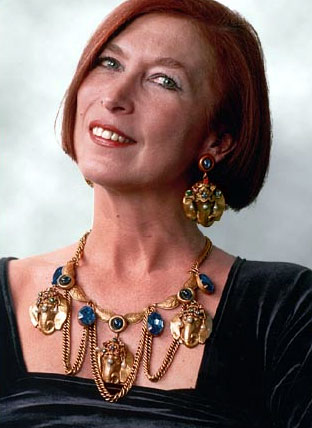 Olwen Forest
She has led a glamorous life herself. She left home in England at 15 to join a French ballet troupe, which took her to America. "We appeared on a lot of US television shows. That's how I met my husband, a French actor and director." In America, they were friends with Frank Sinatra and Sammy Davis Jr.
When they returned to France, she became a model in haute couture, learning about Paris fashion on the inside.
"I have always loved the glitter of the stage. I was destined to love costume jewellery. It reminds me of those big jars of sweeties in old-fashioned shops when I was a child in Yorkshire."
She has had her stall in the Serpette market, in northern Paris, which has become a point of pilgrimage for wealthy Americans, for 28 years. She is an acknowledged authority on the history of designer and cinema jewellery as well as an impassioned collector and dealer.
Leading designers also beat a path to her door to seek inspiration for their collections, although she refuses to name them. "They call me the guardian of the treasures," she says, explaining that the fashion houses often didn't keep any examples of their work, so she now has the only ones in existence, like an archive.
"These pieces are not repeaters. They become one of a kind because people don't know what they've got, or they get broken and thrown away."
As well as rare and valuable early Coco Chanel and Yves Saint Laurent, the gems of her collection are signed by Joseff of Hollywood, jeweller to the stars in the 1930s and 40s, and Chanel's US rival Miriam Haskell. She also has a particular obsession with the eccentric Elsa Schiaparelli.
-- 'They call me the guardian of the treasures' --
--------------------------------------------------
She loves the flamboyant colour in the "shocking pink" range Schiaparelli designed to go with Surreal creations like her "pork chop" hat and her unconventional use of wood, Bakelite and feathers.
The old Swarovski crystals, the frosted glass and opalescent beads, the fragile constructions of tiny wires, all speak of a craftsmanship far superior to anything today. Now they use resin rather than "pate de verre" or poured glass.
Through her enthusiasm Forest has gained privileged access to people like Roger Jean-Pierre, one of the master craftsmen used by Schiaparelli. They became personal friends and used to talk jewellery regularly until his death three years ago.
The widow of Joseff of Hollywood, who was killed in a plane crash in 1948, gave her pieces to thank her for mounting an exhibition of his work, "she was just so happy his memory was being honoured."
While her personal collection is not for sale she is nevertheless happy to share it by mounting themed exhibitions in her shop. From September 27 she is presenting one on symbols in jewellery.
Star exhibits will include the asp belt buckle worn by Elizabeth Taylor in Cleopatra, a lion's head brooch worn by Olivia de Havilland in the 1939 movie "Dodge City", and a spectacular elephant necklace made by Joseff for the 1942 film "Jungle Book", with three elephant heads, "all with their trunks turned up for luck."
In the arcane language of jewellery, hands represent communication and friendship, elephants are wisdom, lions are strength and leaves and berries the abundance of life. The snake, which symbolises sensuality and temptation, provokes the strongest reactions according to Forest. "Some people are afraid of them, others love them."
Costume jewellery is much more affordable than real gems: the cheapest earrings start at around 300 euros (440 dollars) and matching sets and necklaces run into several thousand.
Do people buy as investment or to wear? "Definitely to wear," says Forest. And it doesn't have the drawback of vintage clothing, where if you get the balance wrong you may look simply dowdy or stuck in a time warp. "I sell to lots of modern women, who are very much of their time and would never want to look old-fashioned.
The Olwen Forest show at the Saint Ouen flea market, Marche Serpette, ends December 29.

By Sarah Shard
Copyright © 2022 AFP. All rights reserved. All information displayed in this section (dispatches, photographs, logos) are protected by intellectual property rights owned by Agence France-Presse. As a consequence you may not copy, reproduce, modify, transmit, publish, display or in any way commercially exploit any of the contents of this section without the prior written consent of Agence France-Presses.