Handbag co Coach in aggressive China push
By Joseph Chaney
HONG KONG (Reuters) - U.S. handbag maker Coach Inc says China will make up over 4 percent of its turnover by 2013 as it expands into 100 cities across the country over the next 10 to 15 years, betting its increasingly well-heeled consumers will demand more brand-name products.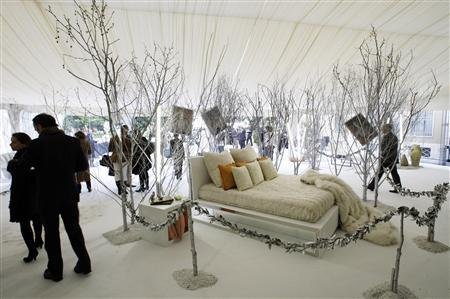 On Wednesday, the New York-based firm -- which competes with Europe's Louis Vuitton and is facing a tough climate in its core U.S. market -- plans to acquire its own domestic retail businesses in Hong Kong, Macau and mainland China from current distributor ImagineX group to propel its local presence.
Coach's drive into Asia comes as retailers -- both upscale and low-end -- fight to attract U.S. consumers grappling with everything from soaring gasoline prices to plummeting property values.
"We offer a well-made and stylish product...at less than half the price point of our European competitors," CEO Lew Frankfort told Reuters in an interview on Thursday.
"Our primary focus is on the female consumer because she tends to be brand-loyal, will go shopping whether the stock market declines or not, and if she has a bad day at the office she may buy herself a Coach bag, where a man would have a double-scotch."
Coach handbags retail for up to $1,100, although many models are available for a quarter of that price.
Coach plans to have about 80 stores in greater China -- Hong Kong, Macau and mainland China -- by 2013, up from roughly 25 now.
The stores will include flagship and freestanding stores, and also factory outlets, Frankfort said.
The firm is aiming to be one of the top three imported handbag and accessory brands in the region by 2013, and is targeting annual sales of $250 million, up from current annual sales of about $30 million.
In 2013, it aims for a 10 percent share of China's premium handbag and accessories market, up from 3 percent now.
Frankfort said India is the next frontier after China, but infrastructure and other problems there prevented the firm from developing immediate plans to enter the market.
TROUBLES AT HOME
In April, Coach -- whose brand adorns handbags, wallets, briefcases -- said it is counting on new products like higher-end accessories, men's goods, and more feminine handbags to lure reluctant U.S. consumers.
Frankfort told Reuters the U.S. handbag maker, though still seeing double-digit sales growth, is being hurt by the weak economy as consumers are hit with soaring food and gasoline prices, and difficulties obtaining credit.
Credit Suisse said Coach -- now boasting a sales per square-foot ratio at 40 percent above the average of the past five years -- will need to keep driving that robust pace of growth to meet high investor expectations, at a time when most retailers are feeling the pinch.
"In a sense, Coach is a victim of its own success," Credit Suisse said in a research note in May.
Coach's shares are up 16.5 percent this year.
In January , Coach said it aimed for China to become its "third leg" after dominating U.S. and Japanese markets.
China, the world's No. 3 consumer of high-end fashion, according to Ernst & Young, is buying more than $2 billion worth of upscale products a year, a figure that could top $11.5 billion in 2015 as the world's top brands grow in the market.
As the Chinese economy surged more than 10 percent annually over the past five years, the country boasted 345,000 U.S. dollar millionaires by the end of 2006, a third of whom were women, according to a report by Merrill Lynch and consultancy Capgemini.
But Frankfort says rising labor costs in China, the world's fastest growing major economy and where many Coach bags are made, may cause the firm to source more bags from Vietnam and India.
"We're working with our existing manufacturing base to be more efficient to offset significant labor costs," Frankfort said. "We're also expanding into northern China, and expanding production in India, and beginning production in Vietnam."
He remained skeptical that Beijing's Olympics -- widely touted as a huge business opportunity for consumer companies -- would significantly help Coach's sales, although it would enhance the country's stature as a global power.
"People who visit the Olympics are looking to buy souvenirs and memorabilia. Historically they haven't spent much money on luxury goods."
(Editing by Lincoln Feast)
© Thomson Reuters 2023 All rights reserved.