Hemlines heading way up in spring 2010 fashions
By Ellen Wulfhorst
NEW YORK (Reuters) - Keep it short and sweet.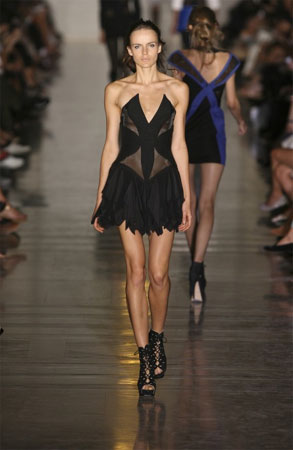 Jill Stuart spring-summer 2010 in New York - Photo: PixelFormula
Hemlines are headed up, way up, in fashions for spring and summer 2010 that appeared on catwalks this week in New York where top designers gathered for a semi-annual array of shows.
"I've never seen so much leg in my life," said designer Stan Herman, former head of the Council of Fashion Designers of America. "I wonder if everybody wants to save fabric."
Among the most prevalent were bandage mini skirts -- tightly wound strips of fabric -- by designers Tadashi Shoji, Yigal Azrouel, Cynthia Steffe and Monarchy. Herve Leger by Max Azria created bandage dresses of denim.
Other minis had flounce and flare, such as skirts by Michael Angel and dresses by Adam Lippes.
For sweet, there were flowers galore -- romantic florals by Cynthia Steffe and Rebecca Taylor, vivid florals by Dennis Basso, dappled prints by Nanette Lepore, washed watercolors by Tracy Reese and sunflower, daisy and tulip prints by Anna Sui.
Others like designer Nichola K created paint-splattered prints evocative of Jackson Pollock paintings.
The seaside was a frequent theme. Derek Lam showed playful sunsuits and halter dresses, Lela Rose used hues of sea glass blue and grass green and Nicole Miller used swirls of blues and blacks in a print she called riptide.
SEASHELL COLORS
Ports 1961 used seashell colors, Iodice looked to mother-of-pearl and marine and Willow made a blue, black and ivory print the designer said was inspired by giant sea clams.
"There's certainly a lot of color on the runway," said Ken Downing, fashion director at Neiman Marcus. "All the inspiration of water and sky, be it shades of blue into green, this whole, very beautiful summer sunset palette of marigold and yellow and beautiful oranges, looks good to the eye."
The feminine floral look could bring some welcome cheer to consumers, said Carlota Espinosa, vice president of fashion for HauteLook.com, an online shopping site for designer clothing.
"When you ask every woman who tries one on, they'll say it's a lift. They feel good about themselves," she said.
The unique prints and patterns will help set high-end fashions apart and make them desirable to shoppers, said Nina Garcia, fashion director at Marie Claire magazine and a judge on the popular cable television show "Project Runway."
"The florals, the paint-splatters look almost personalized or 'luxe,'" she said.
The fabric missing from hemlines appeared in loosely draped dresses and blouses with cowl necks and deep plunging backs by Twinkle by Wenlan, Willow, Nicole Miller, Ports 1961 and Tibi. Narciso Rodriguez showed billowing tent dresses.
FOLDS OF FABRIC
Longer tunics were popular, sheer and draped over bandeau tops by Yigal Azrouel and with one sleeve by Tony Cohen, while blazers were loose and oversized like they could have been borrowed from a boyfriend.
Tuxedo jackets made an appearance, as did rugged anoraks with drawstring waists and hems.
Silhouettes were soft. Many pieces had draping and extra folds of fabric in dolman sleeves or wrapped like kimonos. Michael Kors folded fabric into origami dresses and skirts.
Keeping it all together were Japanese obi-style sashes, criss-cross straps, corset lacing, braiding and bows. Carolina Herrera decorated gowns with woven ropes, and Tadashi Shoji and Diane von Furstenberg showed macrame dresses.
Fabrics were washed, crumpled, hammered or outright abused, as in the shredded wool cobwebs, burned lace and sandpapered silk used in macrame and crocheted dresses by Rodarte.
Ralph Lauren opted for ethereal blues and silvers in a collection that merged casual denim and evening wear looks.
Symmetry was rare. Dresses might have just one shoulder, jackets had one sleeve and hems were cut at an angle.
"We have seen color, we have seen interesting embellishments, new silhouettes that will offer something to our customers that they don't already have," Colleen Sherin, fashion market director for Saks Fifth Avenue, told Reuters.
"So far, we're pleased with what we're seeing," she said.
Trousers were slouchy and relaxed, harem style or with drawstring waists. Long full shorts returned, with pleats by Milly or rolled up and tied by Monarchy.
"It's all about the bottom line. We can 'oooh' and 'ahh' until we're blue in the face, but if that piece of clothing doesn't sell, then who cares," stylist Jesse Garza said.
(Additional reporting by Michelle Nichols; Editing by Peter Cooney)
© Thomson Reuters 2023 All rights reserved.