Heritage fashion houses pay tribute to the past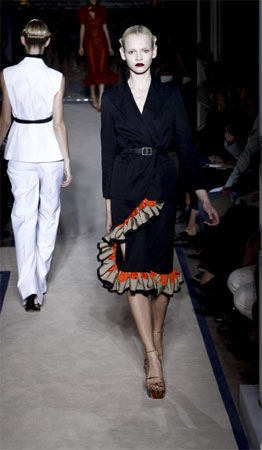 Yves Saint Laurent. Photo : Pixelformula
(Reuters) - Yves Saint Laurent took no risks with a collection that seemed to come straight out of a recent exhibition on its founder, but with a 2010 touch, allowing it to ride the wave of nostalgia for the late designer.
The fashion house's modern day creative director Stefano Pilati played with YSL's classic codes and colors from the safari jacket and tuxedo to African prints and color mixes such as black and deep blue.
"I thought it (the collection) was very appropriate given the influence Yves Saint Laurent has been having on designers," Colleen Sherin, fashion director at U.S. luxury department store Saks Fifth Avenue, told Reuters.
Many fashion critics agree the French designer has had a big presence on the runway this autumn, from Marc Jacobs in New York in September with his bright colors and silhouettes to Etro in Milan and Stella McCartney in Paris this week.
Fashion consultants say sales from a well-established fashion brand such as Yves Saint Laurent can benefit from heritage if its traditional style and colors remain identifiable and recognizable among fashionistas.
The company's eponymous founder, who died two years ago, is largely credited with being one of the first French designers to make women look elegant and feminine in pants.
Pilati's summer/spring collection unveiled late on Monday comes after a popular exhibition on the designer in Paris and a feature film about his love for business partner Pierre Berge, which was released last week.
The current wave of YSL mania has also been stoked by a controversial biography "Saint Laurent, mauvais garcon" (bad boy), in which author Marie-Dominique Lelievre debunked myths about the designer and shed light on his drug addictions.
Pilati downplayed the retrospective nature of his show, arguing that he always delved into Yves Saint Laurent's archives but recognized that this time, his references to the house founder were "perhaps clearer" than before.
"It has been 10 years in the house, six years by myself and it is a total progression. I developed my vocabulary with my personal research but at the same time, I always look at the archive, and it is very very important," he told Reuters.
As always, the Yves Saint Laurent show, housed in the palace Hotel Salomon de Rothschild in central Paris, attracted a wide range of celebrities.
Singer Janet Jackson, musician Ron Wood and supermodel Claudia Schiffer were spotted on the front row.
Pilati's new collection, which included big bows and ruffles on the hem of lantern-shaped dresses, included many practical items designed to give a fillip to sales.
CHANEL
Meanwhile, France's Chanel pulled out all the stops for a show that drew heavily on the brand's history while seeking to broaden its appeal for a younger audience.
The show spanned the entire floor of the Grand Palais in central Paris, an area the size of a football pitch transformed to resemble a classical French garden, complete with black hedgerows, gravel paths and polished white fountains.
There were more models, more styles, and more spectators than usual for Chanel, all signs of a brand intent on spreading its influence with a generation of fashionistas which has learned to cut corners during the global recession.
Rousing, film-inspired music accompanied the appearance of the first models, some draped in hole-bitten mid-length coats, others wearing a version of the signature Chanel tweed skirtsuit, updated with a slightly oversized jacket.
The half-hour procession of outfits seemed to prize variety over consistency. Evening dresses of cascading white mousseline and silvery chain mail followed giant knitted cardigans or a flamboyant gown of dyed ostrich feathers.
Designer Karl Lagerfeld, appearing after the show in typical high collar and powdered white hair, said he had delved into Chanel's cinematic history for inspiration.
"My inspiration was Delphine Seyrig from 'Last Year in Marienbad,' he told Reuters, referring to the Chanel-clothed star of the surrealistic 1961 film.
Lagerfeld fielded a varied selection of models, including old friend Ines de la Fressange and a male model holding the hand of a small boy, as celebrities crowded the benches around the runway.
"I loved the drama of this show ... Chanel has such an incredible heritage, and Karl is a genius for bringing surprises to every show," said former supermodel Claudia Schiffer, who sat not far from British pop star Lily Allen and French actress Vanessa Paradis.
(Editing by Steve Addison)
© Thomson Reuters 2023 All rights reserved.