HK-listed Yue Yuen seeks funds for bond redemption
By Donny Kwok
HONG KONG, Feb 27 (Reuters) - Yue Yuen Industrial (0551.HK), which supplies sports shoes to firms such as Nike (NKE.N) and Adidas (ADSG.DE), said on Friday it was confident of getting bank funding to finance payments on its debt falling due in November.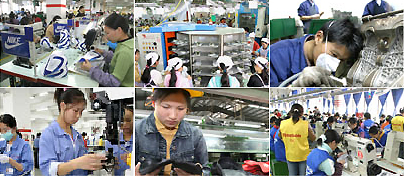 www.YueYuen.com
The company is aiming to secure $255 million from banks to cover claims from bondholders exercising a put option.
The company sold five-year convertible bonds in 2006 to raise HK$2.1 billion ($269 million). The conversion price of HK$26.75 is much higher than the current market price, and bondholders have the option to surrender the bonds for cash on Nov. 17, 2009.
Shares of Yue Yuen, which fell 45.3 percent in 2008, have fallen a further 5.2 percent so far this year to end at HK$14.52 on Friday.
"We are arranging the financing with mainland, local and overseas banks, and the response has been encouraging," executive director Steve Li told reporters after a shareholder meeting.
Bondholders are entitled to redeem bonds in the third year, which will be about the end of this year, Li added.
Asian convertible bond issuance jumped in 2006 and 2007, rising by 60 percent and 83 percent, Thomson Reuters data shows, as companies tapped booming stock markets that allowed them to command higher conversion premiums.
The option to convert into shares has an unlimited upside in terms of potential equity gains and little downside in a bull market because conversion is more or less a certainty. However, in an equity downtrend these instruments become less popular.
Cratered equity valuations mean that many Asian convertible bonds will not be converted into shares and companies will have to redeem these bonds like ordinary debt.
And there are worries about the ability of some of these issuers to repay the debt.
Bankers say convertible bonds are generally issued by younger, less mature companies and as a result they come with almost no covenants, provide easy access to capital and are biased to a bull market.
With the global credit meltdown virtually shutting down capital markets, some of these smaller companies could struggle to meet their obligations.
Yue Yuen, part of Taiwanese Pou Chen Group, in January posted a more than 30 percent rise in net profit to US$468.66 million for year ended in September 2008.
Chairman Tsai Chi Neng said he expected the company to be able to maintain steady growth in 2009 with China-led Asia region driving the growth momentum.
The company's sportswear retailing arm Pou Sheng International (3813.HK) also said in January that it planned to expand its store network in China via a deal worth about HK$793 million. (US$1=HK$7.8) (Editing by Sharon Lindores)
© Thomson Reuters 2023 All rights reserved.