Honduras textile industry vulnerable to drawn out crisis
SAN PEDRO SULA, July 6 (Reuters) - A week after troops ousted the Honduran president at gunpoint, factory owner Roberto Cardona watches his industrial bobbins spinning thousands of threads into T-shirt fabric and frets fickle clients will pull orders if the crisis deteriorates.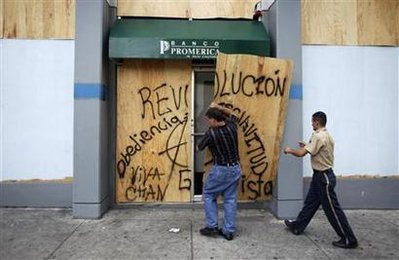 The crisis in Honduras has distrusted the economy, shown here by the boarding up of a bank with police help - Photo: REUTERS/Daniel LeClair
Central America's largest textile and clothing exporter to the United States, Honduras faces growing international isolation after a June 28 coup that ousted President Manuel Zelaya.
The caretaker government blocked Zelaya from trying to fly home on Sunday 5 July and one person was killed in clashes between soldiers and protesters. The death was the first in protests both denouncing and supporting the coup over the last week.
"The big brands carefully guard their image and the obvious decision of the clients will be to move to where they may not have the lowest costs but can be assured broad political stability," said Cardona, whose factory produces for underwear makers Hanesbrands (HBI.N) and Jockey International Inc.
Business leaders in Honduras' manufacturing sector largely supported the ouster of Zelaya, alarmed by his increasing alliance with Venezuela's leftist President Hugo Chavez and what the country's Supreme Court ruled were illegal attempts to lift presidential term limits.
But since the coup, governments around the world have isolated the new Honduran authorities, culminating in the Organization of American States suspending Honduras from the body on Saturday 4 July and raising the specter of economic sanctions.
Around 20,000 jobs in sprawling factories in the eastern city of San Pedro Sula that make everything from designer clothing to car seat belts have been lost in the last year because of falling U.S. demand. More jobs could dry up if the political crisis worsens.
In the textile business, production can move easily from country to country in a matter of weeks.
"Our clients in the United States are making contingency plans in case Honduras -- because of this situation -- won't have any light, won't have any water, or people can't get to work," Cardona said over the din of vats dying cloth.
Unions for workers in the state-run electricity and water company strongly support Zelaya: since the coup the installations have been guarded by soldiers and many employees have been marching on the streets.
Zelaya, a wealthy businessman who edged to the left after he came to power in 2006, promised with fiery rhetoric to improve the lot of the poor.
LOANS PAUSED
The World Bank and the Inter-American Development Bank paused loans to Honduras after the coup, which could also affect companies who receive credits from the international lenders, said Heather Berkman of the Eurasia Group.
Daniel Facusse, a textile magnate who heads the national industry association, said allowing Zelaya to remain in power would have been worse for private industry, and business leaders are ready to hunker down until new elections scheduled for November.
Facusse is part of a group of businessmen and politicians who planned to travel to Washington this week to meet U.S. officials to present the position of the interim government and try to prevent economic retaliation from the United States.
Workers worry that waiting out the situation will just make their already tough economic times harder. Honduras is the hemisphere's third poorest country after Haiti and Nicaragua.
Blanca Calix, 28, who has been laid off twice at a T-shirt factory since the beginning of this year, was rehired for brief stints as a temporary worker so her employers could avoid paying benefits.
She now works as a cook in a hospice to support her two children, two brothers and grandmother who live in a town four hours by bus and another three-and-a-half hours by foot from San Pedro Sula.
"Honduras depends on the production it sends to the United States, we don't have the capacity to survive alone," she said.
Zelaya sharply increased the minium wage at the beginning of the year, putting strains on some businesses to meet salaries. But the textile industry was exempt from increases.
Calix said she struggled to support her family on her 1100 lempira or $58 a week wage, cutting over 6,000 T-shirt sleeves in a 12-hour work day. No aid from Zelaya's social programs for single mothers arrived in her town.
"This thing could blow up, with people running out in the street grabbing on to their children, like the end of the world," Calix said.
(By Mica Rosenberg. Editing by Frances Kerry)
© Thomson Reuters 2023 All rights reserved.